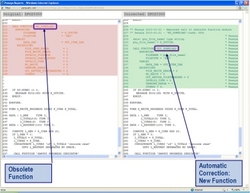 After detecting at least 95% of all code issues encountered in an SAP upgrade, we can now automatically correct, on average, 67% of them
Menlo Park, CA (PRWEB) February 17, 2010
The leading supplier of SAP upgrade automation SaaS, Panaya, announced today the release of its latest automation product enhancement – fully automated code corrections.
SAP upgrades are lengthy projects that traditionally require testing aimed at discovering potential problems, manual correction of the problems found, and additional testing and corrections, until all discovered issues are resolved.
Panaya's first SAP automation solution already eliminated the preliminary discovery testing and replaced it with an actionable list of issues that require correction prior to an SAP upgrade. The new version, just released, takes a giant step forward by actually correcting most of the code issues it discovers.
"After detecting at least 95% of all code issues encountered in an SAP upgrade, we can now automatically correct, on average, 67% of them, explained Mati Cohen, Panaya's CTO. "This means that our overall savings on a typical SAP upgrade project have effectively gone up to around 70%, compared to traditional project methodology. "
Panaya cooperated with several SAP customers who acted as ramp-up customers for the new feature. "We've been testing Panaya's automatic code correction feature and seen what a dramatic impact it can make on our upgrade project," said Yifat Goldberg, CIO at Palram Industries, a leading multinational manufacturer of semi-finished thermoplastic sheets.
Panaya's automatic code correction is available immediately. Active Panaya customers will receive this upgrade at no additional cost, as part of Panaya's Software-as-a-Service policy. SAP customers who would like a commitment-free demo can sign up at http://www.panayainc.com/Schedule-a-Demo.html
About Panaya:
Panaya's Software-as-a-Service solutions enable companies that use SAP to save up to 50% of their application lifecycle costs and minimize the risks associated with system changes. Utilizing cloud-based simulation to analyze the impact of pending changes, Panaya automatically pinpoints which custom programs will break as a result of an upgrade or support package implementation. Panaya provides a complete solution for managing these changes, explaining how to fix the anticipated issues, suggesting the most efficient test plan, and calculating required project budget and resources.
For further information contact Susan Sullivan at Susan.Sullivan@PanayaInc.com or 617-875-6256 or visit the Panaya web site at http://www.panayainc.com.
SAP is a registered trademark of SAP AG. SAP and other SAP products and services mentioned herein as well as their respective logos are trademarks or registered trademarks of SAP AG in Germany and in several other countries all over the world.
###