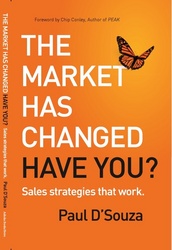 It just makes sense to get clear about your goals and your sense of purpose first
Loveland, OH (Vocus) February 11, 2010
The new sales book - The Market Has Changed, Have You? Sales Strategies That Work; is helping companies win more business. Paul D'Souza makes a stand in the market place that may surprise conventional thinking ... yet makes too much sense to ignore.
D'Souza suggests that sales people put themselves and their families at the foundation of their "Go-To-Market" strategies. This market is a predator he says and it is important to put the needs of ourselves, our families and children first and foremost, when considering how we choose to address the challenges in today's market place.
Many companies, the unemployed and small business owners nod their heads in approval when reading this fascinating book. "It just makes sense to get clear about your goals and your sense of purpose first," says Linda Bunner, a Global Independent Distributor with the Amway Corporation.
Paul D'Souza was recently interviewed by the Selling Power Magazine's Founder and Publisher, Gerhard Gschwandtner about the book and the Wha-Dho Philosophy that D'Souza invented. Some of the key ideas that he suggests we consider embracing today are 1. Stop taking "Short Cuts", 2. Get Clear about your personal Goals, 3. Embrace Technology, 4. Be Real and finally 5. Embrace Change like a butterfly which is the symbol on the book.
Forced Entrepreneurs and Small Business Owners are enjoying this new approach to sales, because it gives them more than just hope. The Wha-Dho Sales Strategy empowers people to get clear about what they want to accomplish in life and "Why?" Taking the time to get clear about these fundamental ideas, helps people increase their "Resourcefulness and Creativity" or their "Creative Genius" that is required to compete in today's market place.
Amway, ACN and other Multi-Level marketing company Distributors, Small Business Owners and Franchisee's are becoming fans of this new book and its sales strategy because it is helping them find strength in themselves while helping them move powerfully in the market place while bringing in revenue.
###