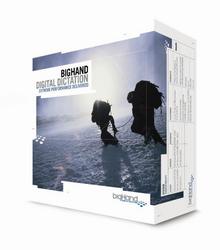 London, UK (PRWEB) February 11, 2010
BigHand, a leading provider of voice technology to the healthcare market, has today announced it has signed up three further NHS Trusts through the Yorkshire and Humber NHS Framework, incorporating some 2000 users. These contracts are in addition to the decision of Princess Alexandra Hospital NHS Trust to bring in BigHand last month, and that of Oxford & Buckinghamshire Mental Health NHS Trust in December. BigHand voice software is utilised by over 100,000 users and 1000 public sector and professional services organisations globally.
The three NHS Trusts to have ordered BigHand voice software include:

Basildon & Thurrock University Hospitals NHS Foundation Trust
The Ipswich Hospital NHS Trust
Airedale NHS Trust
BigHand voice software helps Trusts remove costly and time consuming administrative duties, allowing hospital staff to concentrate more fully on their clinical requirements. During 2009, BigHand was selected by the NHS Yorkshire and Humber Commercial Procurement Collaborative for the provision of digital dictation and speech recognition. This Framework is available to Trusts across the UK and removes the need for time consuming tender processes.
Stephen Brooker, a current Non-Executive Director at an NHS Trust and Consultant for BigHand commented:
"This is a major step for NHS trusts in the process of implementing initiatives to help meet key national targets, reinforcing that these clients are all engaged in the process to deliver 21st century medicine in a fast, safe way to the highest standards of clinical governance."
Other NHS Trusts who have already invested in BigHand technology include, Sheffield Teaching Hospitals NHS Trust, Guy's & St Thomas' NHS Foundation Trust, Wrightington, Wigan and Leigh NHS Trust, Western Sussex Hospitals NHS Trust and The Mid Yorkshire Hospitals NHS Trust.
Contact:
Chris Bell, BigHand. Tel: +44 (0)20 7940 5907
About BigHand
BigHand is based out of London, Chicago, Sydney and Toronto and is a Microsoft Gold Partner & BlackBerry ISV Partner. The leading digital dictation vendor in the public sector and professional services industries, BigHand currently supports over 100,000 software users globally. The BigHand for BlackBerry® application won 'Mobile Product of the Year' at the CNet Business Technology Awards 2008. Further information is available at http://www.bighand.com/digitaldictation/Healthcare.html
###