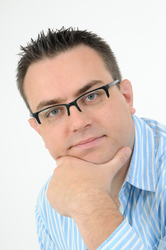 Most businesses are used to the idea of an interim Financial or Marketing Director - well now the time has come for the role of the Internet Director
(PRWEB) February 12, 2010
Many companies are familiar with the idea of having a part time Financial or Marketing Director. In the 21st Century, the time has come for the new role of the Internet Director.
Lee Gilbert, known to many as "The Serious' Players Webmaster", has launched a new way of working: The Internet Director Programme. Lee already acts as the 'Internet Director' in a number of UK based businesses – through dedicating his personal time, expertise and network to driving those businesses forward and be more effective, more successful and - most importantly - more profitable online.
The Internet Director programme is designed for businesses that need a lead 'expert' to fulfil a virtual Director position. Full accountability will be held and strategic recommendations and project management will be driven from the position. The technical resources needed can also be supplied by Lee's team, as detailed below:

Strategic Consultancy with responsibility for driving clients' business plan
Minimum of 1 day of personal consultancy commitment per month
Internet Marketing, Search Engine Optimisation (SEO) and Pay Per Click management
Complete and unlimited telephone based support
Web Design / Programming
Ongoing site maintenance
Full technical support
Copywriting and Campaign Management
Attendance to company meetings in quasi Director role
The role is a 'one stop shop' solution to successful online business. Rather than managing multiple resources, multiple sub contractors and multiple projects; Lee and his team do everything for you as part of the programme – leaving you to focus on running your operation.
Lee Gilbert is a successful web consultant, speaker and expert on anything New Media; with over 10 years of Internet Marketing experience. He advises top companies on their web strategy, site design, traffic building programmes and PR; but he also has extensive and practical experience of running his own web businesses – something that sets him aside from many so–called "experts". He's a published author, Director in 3 leading web companies and Founder of his own Web Design Agency. As a proven Internet Marketing expert, he applies his experience in different industries – all with one main objective: achieving web commercial success, not a designers dream.
Lee Gilbert is known by many as "The Serious Players' Webmaster" because of his sheer depth of knowledge, contacts and client base.
For further information:
###