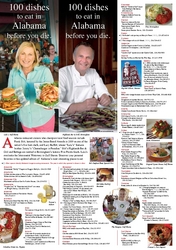 It has by far been the most popular brochure that we have produced to date
Montgomery, AL (Vocus) February 11, 2010
Scallops at the Battle House Hotel in Mobile, a sushi roll at Jensei in Homewood, fried chicken at Maggie's Diner in Tuscaloosa and a peanut butter and jelly pastry at the Cotton Row in Huntsville are a few of the new dishes listed in the latest edition of the "100 Dishes To Eat In Alabama Before You Die" brochure released today.
From BBQ to fresh Gulf seafood, the brochure lists dozens of restaurants in small towns and downtowns across the state. Royal Red Shrimp at Old Bay Steamer and King Neptune's on the Gulf Coast, the catfish and cheese grits at Radley's Fountain Grill in Monroeville, baked grits at Highlands Bar and Grill in Birmingham, tomato salad at Hot and Hot Fish Club, L.A. Caviar at Lulu's in Gulf Shores, fried chicken at Martin's in Montgomery, BBQ Chicken with white sauce at Big Bob Gibson's in Decatur and orange-pineapple ice cream at Trowbridge's in Florence are just a few long time favorites.
Two of the state's celebrity chefs appear on the covers. Lucy Buffett of Lulu's in Gulf Shores is seen holding a "Cheeseburger in Paradise," made famous by her brother Jimmy Buffett, on one side, while Frank Stitt is pictured on the reverse shucking fresh peas at one of his Birmingham restaurants, Highland's Bar & Grill.
Buffett and Stitt were selected for the covers because of their dedication to serving food grown by local farmers as well as being champions of the Farm-to-Table Movement. Stitt was honored by the James Beard Awards in 2009 as one of the nation's best chefs and Highlands Bar & Grill was named one of the top five restaurants in the U.S. by the James Beard Foundation. Stitt also owns Bottega and Chez Fonfon in Birmingham. Lucy Buffett has appeared numerous times on NBC's Today Show and the Food Network
promoting and preparing her recipes from her cookbook, "Crazy Sista Cooking."
"It has by far been the most popular brochure that we have produced to date," said tourism director Lee Sentell. "I think the reason it's so popular is that people love food. We love to eat and we love to eat good food," he added.
More than 800,000 brochures have been printed and distributed since its initial printing in 2005 as part of the "Year of Alabama Food" tourism campaign. This is the third update of the publication.
Copies of the brochures are available at the state's eight Welcome Centers, by calling 1.800.ALABAMA (252.2262), or by downloading at http://www.alabama.travel.
The list of new dishes is as follows:
Abbeville
Homemade "Molly" Fingers at Huggin Molly's
Aliceville
Barbecue brisket at Plantation House
Athens
Cinnamon Sugar Chips at Tortillas Blanco
Prime Rib at Clark's Restaurant
Birmingham
Neopolitan pizzas at Bettola
Brundidge
Chicken Salad Blossom at Sit N Sip
Dadeville
Catfish fingers at the Circle A Catfish
Gumbo at Christopher
Daphne
Shrimp Po-Boy at Market By The Bay
Decatur
Green beans at Albany Bistro
Eutaw
Famous Chef Salad at Mama Leone's
Fairhope
Blue Cheese Burger at The Pub
Big Daddy Burger at Big Daddy's Grill
Muffaletta at Panini Pete's,
Royal Red Shrimp at Old Bay Steamer
Triple Chocolate Cake at Sandra's Place
Goshen
Rum bread pudding at Old Barn Restaurant
Greenville
Cranberry nut salad with Balsamic dressing at Emily's Café
Guin
Monster Dog & Monster burger at Mutter's Diner
BBQ sandwich and banana pudding at Jimbo's BBQ
Gulf Shores
Peanut butter pie at the Original Oyster House
Seafood platter & gumbo at Wolf Bay Lodge
The Wipe-Out Burger at The Hangout
Farmer's Omelet at Tacky Jack's
Hanceville
Fried cheeseburger at Dodge City Restaurant
Homewood
Ribs at SAW's BBQ
Kadoma Tuna Roll at Jinsei
Huntsville
BBQ stuffed potato at Little Paul's BBQ
Coffee Rub Steak at 801 Franklin
Chili burger & slaw dog at Big Spring Cafe
Peanut butter & jelly in phyllo at Cotton Row Restaurant
Madison
Catfish & hush puppies at Greenbrier
Mobile
Alabama shrimp & grits at The Blind Mule
Bacon cheeseburger at Callaghan's Irish Social Club
Caramelized Day Boat Scallops with Wild Mushroom Risotto, Swiss Chard and White Truffle
Oil at The Battle House Hotel
Ginger donut at NoJa
Praline Dobash Cake at Pollman's Bakery
Seafood and sausage gumbo at Oysterella's
Monroeville
BLT Supreme at Radley's Fountain Grill
Montgomery
Pecan pan-fried snapper at Chophouse
Pecan Pie with Jack Daniels Ice Cream at Garrett's
"Walk-Thru-Fire Pancakes" at Red Bluff Cottage B&B
Moundville
Lane Cake at Miss Melissa's Café
Orange Beach
Breakfast buffet with omelet bar at Hazel's Seafood Restaurant
Sea bass wrapped in banana leaves at Cosmo's Restaurant
Shrimp & grits at Ginny Lane Bar & Grill
Prattville
Home cooking at the Jim's Restaurant
Rainsville
Catfish and chicken fingers at Katy'd Katfish
Rogersville
Homemade chicken salad at Cafe Savanna
Scottsboro
Chicken salad at Cups Cafe
Pulled pork at Triple R BBQ
Strawberry salad at The Veranda Café
Spanish Fort
Gumbo & crab claws at Blue Gill Restaurant
Seafood at The Original Oyster House
Theodore
Country cooking at Time to Eat
Thomaston
Pepper Jelly Omelet and Black Belt Eggs Benedict at Mama Nem's
Tuscaloosa
Fried chicken at Maggie's Diner
Smoke Chicken with white BBQ sauce at Cypress Inn
Tuskegee
Footlongs and burgers at TJ's Bar & Grill
Yams at the Kellog Center Restaurant
Union Springs
Smoked meat & homemade stew at the Hilltop Grill
Vestavia Hills
Shrimp Etouffee at New Orleans Food & Spirits
Sandwiches on wheat roll with BBQ sauce at Mr. P's Butcher Shop & Deli
Waverly
Seasonal gourmet ice cream at Yellow Hammer
Valley
Homemade soups at 559 Market Place
York
Baked Turkey Wings at Larkin's Deli
###