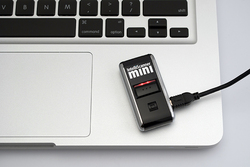 Now starting at just $159, IntelliScanner includes everything you need to scan, organize, and share your collections and home inventory, automatically.
San Francisco, CA (PRWEB) February 12, 2010
IntelliScanner Corporation, creators of personal barcode scanners and software that organize everything, today introduced IntelliScanner mini 250, the latest scanner for organizing everything at home on PC and Mac. The smart scanner and software bundle uses barcode technology to automatically identify, organize, and share household collections and items like movies, wine, books, and comics.
"Keeping track of your books, wine, groceries, comics, electronics, and more is what IntelliScanner is all about," said Travis J. Hicks, Chief Operating Officer, IntelliScanner Corp. "Now starting at just $159, IntelliScanner includes everything you need to scan, organize, and share your collections and home inventory, automatically. With our latest scanner for 2010, you can scan everything with enhanced battery life and double the memory."
DOUBLE THE MEMORY. 70% GREATER BATTERY LIFE.
IntelliScanner mini 250 now offers double the memory (now up to 500 scans before needing to sync) and 70% greater battery life (now up to 600 scans per charge) of previous models, giving users ultimate flexibility in scanning their home collections. IntelliScanner syncs and charges via USB with any PC or Mac. IntelliScanner mini also comes in a metal cube for easy storage.
MANAGE MEDIA, WINE, COMICS AND MORE WITH TINY BARCODE SCANNER
IntelliScanner mini includes a smart, ultra-portable barcode scanner and innovative software for organizing, searching and sharing collections. By scanning the barcode with IntelliScanner mini, the software will automatically track home assets and valuables, with special features to instantly identify books, wine, comics, DVDs, groceries, and more. Users simply plug the scanner in to sync -- just like a digital camera -- and the software will download details like the book title, CD track, or wine vineyard into a database.
Pricing & Availability
IntelliScanner mini 250 is now shipping worldwide for $159 to $249, depending on the included software bundle. Purchase IntelliScanner mini for books only for $159, media software only (books, CDs, DVDs, and games) for $179 or organize everything with the complete home organization software bundle (for media, wine, comics, groceries, and other assets) for $249.
The metal cube package includes the mini barcode scanner with rechargeable battery, USB cable, neck lanyard and pre-printed asset tags for items without barcodes. Now shipping. Order online at http://www.intelliscanner.com. Requires Mac OS X or Windows XP/Vista/7 and a free USB port. For more information, visit:
http://www.intelliscanner.com/products/mini/
See the new IntelliScanner mini 250 at Macworld Expo, this week at the Moscone Center in San Francisco, California. IntelliScanner mini is presented at Apparent Corporation's booth.
About IntelliScanner Corporation
IntelliScanner organizes everything with smart barcode scanners and software for home, business and education. The company's award-winning tools for PC and Mac organize book collections, wine, groceries, DVDs, comics, CDs, home assets, business inventory, and more. (800) 550-5470; http://www.intelliscanner.com.
For media assistance, contact info@intelliscanner.com or (800) 550-5470 x109. IntelliScanner representatives are available for comment via e-mail and telephone. In-person interview requests are available this week in San Francisco.
Copyright (c) 2010 IntelliScanner, a wholly owned subsidiary of Apparent Corporation.
http://www.itsapparent.com. All rights reserved.
###