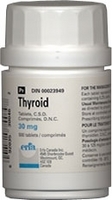 We have thousands of U.S. residents getting desiccated Thyroid from Universal Drugstore.
(PRWEB) February 11, 2010
Many Americans suffering from hypothyroidism are beginning to panic as the long-term shortage of Armour Thyroid, Nature-Throid, and Westhroid continues. It seems to be a mystery as to why Forest Laboratories, the company that produces Armour Thyroid, suddenly stopped making their Thyroid product last Fall.
Forest Laboratories admits that there is a critical back-order of Armour Thyroid and they do not know when new supply will be available. Forest is recommending that patients contact their physician for alternative treatments such as Synthroid. Unfortunately, many patients simply can not handle taking Synthroid and need the natural desiccated thyroid product. This leaves these patients with a significant health concern and major dilemma.
Why is this problem so significant? Well, it is the opinion of many doctors that the thyroid gland is the most important gland in the body because it regulates metabolism. Symptoms of hypothyroidism include hair loss, heart palpitations, weight gain, sluggishness, achy joints and depression. Dealing with these symptoms can be extremely unpleasant.
U.S. pharmacies started to run out of Armour Thyroid months ago. There are a couple of alternatives, Nature-Throid and Westhroid, but these Thyroid products are also nearly impossible to find as well. Patients are definitely starting to feel panicked.
The reality is that there is no need for Thyroid patients to panic. There is a little-known secret that thousands of Americans have already discovered. The "secret" is that there is a natural desiccated Thyroid product readily available from Canada. The product is made by a company called ERFA. ERFA Thyroid is a Health Canada-approved desiccated Thyroid product similar to Armour Thyroid, Nature-Throid and Westhroid. ERFA has been producing their Thyroid product since 2005.
One licensed Canadian pharmacy, Universal Drugstore, has been at the forefront of supplying ERFA Thyroid to American patients. Universal Drugstore has supplied thousands of American customers with ERFA Thyroid in the past few months.
"We have thousands of U.S. residents getting desiccated Thyroid from us. We also have dozens of U.S. clinics that send all their Thyroid patients to us because of this supply issue," says Jeremy Cockerill, a licensed pharmacist with Universal Drugstore. "Our pharmacists and pharmacy staff understand the important nature of this shortage and they do everything they can to fill Thyroid orders with the highest priority. We know people need this medication and we do our best to get it to them quickly"
U.S. customers who suffer from hypothyroidism and require desiccated Thyroid for their treatment can visit Universal Drugstore online at http://www.UniversalDrugstore.com or call them toll-free at 1-866-456-2456. Prescriptions and contact information can be faxed to 1-866-783-4223.
If the phone lines are busy customers should try again. Jeremy Cockerill explains, "due to the overwhelming need for this medication our phone lines have been swamped. We are doing our best to bring on more staff to handle the increased call volumes and to process orders quickly. We encourage people to place their orders online if they have access to the internet."
Universal Drugstore also guarantees that they have the best pricing on ERFA Thyroid and will match any price. Universal Drugstore is a licensed Canadian pharmacy. They are members of the Canadian International Pharmacy Association as well as a 5-check PharmacyChecker.com-approved pharmacy.
Although there may be no end in sight to the desiccate Thyroid shortage in the United States, U.S. residents can access the ERFA Thyroid product from Universal Drugstore. For those patients needing natural desiccated Thyroid for the treatment of hypothyroidism this is a great alternative.
For information on the ERFA Thyroid product please visit http://www.universaldrugstore.com/medications/thyroid
###