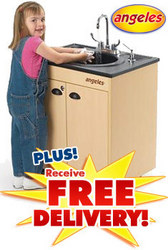 Pacific, Missouri (PRWEB) February 25, 2010
The new Angeles® Portable Hot Water Sink brings clean hands and defense against colds and H1N1 flu virus as near as your closest electrical outlet. Recent flu epidemics have emphasized the importance of frequent hand-washing with hot water, especially for children. According to the Center for Disease Control (CDC), hand-washing is the best way to prevent infection and illness. Now teachers in classrooms anywhere can encourage frequent hot-water hand-washing without costly plumbing and in any location where kids need it most. Angeles®, a brand leader in early childhood educational supplies for over 50 years, specializes in durable, top-quality products that meet the needs of educators in the growing preschool market.
Angeles® Portable Hot Water Sinks are recognized by most licensing and health agencies as compliant with pertinent local and state code requirements for licensing. They're the ideal solution for adding hand-washing stations without the budget for additional plumbing. The convenience of hand-washing stations for snack areas, art areas, and other indoor and outdoor play areas keeps classrooms cleaner and children safer from germs. Award-winning Angeles® Portable Hot Water Sinks arrive fully assembled and require no plumbing and work from any dedicated 20 AMP electrical outlet.
Tim Lynch, Director of Sales and Marketing for Angeles®, said, "Our line of Portable Hot Water Sinks offers educators the perfect opportunity to add necessary hand-washing stations without the high cost of new plumbing. Proper hand-washing means better hygiene and fewer days in school lost to absenteeism. In nearly any classroom, a portable sink saves significant time by reducing the number of children who use each hand-washing location - or even eliminating the need to walk children to a bathroom located outside the classroom. Reducing clean-up time allows for more learning time during the day."
Every component of the Angeles® Portable Hot Water Sinks meets all FDA, NSF, UL and CSA approvals or listings. The units are self-contained and arrive ready to fill and use. The scald-guard heater sensor means hot water will not exceed 125°F, and all sinks can run both cold and hot water. All faucet handles are ADA compliant and each unit comes with sturdy locking casters for ease in mobility. All Angeles® sinks have a separate 5-gallon fresh-water tank and 6-gallon waste-water tank for no risk of cross-contamination, and each comes standard with an easy-fill tube. Angeles® Portable Hot Water Sinks are available in multiple heights and with multiple basin and countertop combinations.
"The cost of installing a permanent sink can be upwards of $3000. With Angeles® Portable Hot Water Sinks, that cost is dramatically reduced. It's all about offering educators realistic budget solutions. In this economy, who doesn't need that?" Lynch said.
Angeles® is the leading distributor in the United States of portable hot water sinks for early childhood classrooms. Angeles® has been a trusted name in early childhood manufacturing for more than 50 years, introducing its first trike model in 1958. Since its beginning, Angeles® has developed a growing number of tricycles, wagons and scooters as well as its popular BaseLine® Furniture and Quiet Dividers®. Angeles® Bye-Bye Buggy® and SpaceLine® Cot lines are industry standards throughout the world.
Discount School Supply (DSS), a national distributor of Angeles® Portable Hot Water Sinks, is a developer, manufacturer and distributor of top-quality products for the early childhood classroom.
Discount School Supply (DSS) is currently offering Angeles® Portable Hot Water Sinks with FREE shipping.
A leader in early childhood school supplies, furniture and equipment, DSS features its proprietary Colorations® brand of art materials and accessories in addition to a complete assortment of Angeles® products. DSS, unique in the marketplace because it ships from four warehouses nationwide, also promotes its 110% Lowest Price Guarantee, its customer-top-rated customer service and its consistent same-day shipping. Discount School Supply and Angeles® are part of the Excelligence family of companies. For more information about the Angeles® Portable Hot Water Sinks, available at Discount School Supply, visit http://www.DiscountSchoolSupply.com or call 1-800-627-2829.
###