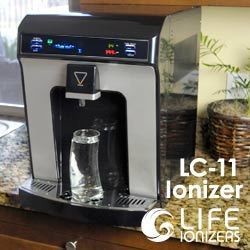 Carlsbad, CA (Vocus) February 11, 2010
This new model is the first of its kind in the industry, offering clients a ground-breaking opportunity to meet their high-output drinking water demands that no other ionizer company has offered before.
As s a rule, the effectiveness of a water ionizer is measured in this industry by the following features: the number of the plates in the unit, the wattage of the power source, the thickness of the platinum surface of the electrolysis plates, and its combined combination of adjustable output settings, which includes purified water, and purified alkaline and acidic water.
Until the LIFE LC-11 ionizer was released, the top settings for each of these features on the market was an ionizer with 9 plates, an ionizer with 200 watts, an ionizer with 2 internal filters.
The LIFE LC-11 sets a new standard in counter top professional-grade ionizers with a whopping 11 plates, 600 watts of power, and up to 4 internal filters!
The applications for the LIFE LC-11 are as energy-efficient as they are space-efficient. With a high-flow water ionizer at your residence or office, you can offer up to 5 liters of alkaline drinking water per minute (assuming adequate water pressure of the source plumbing) in a fraction of the time it would take to deliver the same volume of water from a lower-grade ionizer! This means you can cater to high-demand situations with ease—for a fraction of the price of the larger, bulkier commercial water ionizers. This sleek professional series powerhouse measures 19" tall, 14" wide, and 17" deep—small enough to fit on your counter top.
Apart from the convenience of size, the LC-11 comes with a spigot attachment that allows you to divert the water flow from the machine into bulky or irregularly-shaped water containers. LIFE Ionizers thought of everything when they developed the Professional series 11-plate unit. They were going for power, convenience, high-volume and durability, and they ended up with a machine that does so much more.
The application for alkaline drinking water to cooking is seamless. Alkaline water is an ideal substitute for unpurified water in restaurant or bar service applications. Alkaline water produces smoother, fresher tasting food and drink than hard tap water.
Furthermore, the applications of acid water are essential for residences and businesses that wish to eliminate toxic cleaning chemicals from their environment. The LIFE LC-11 Professional Series water ionizer can provide anywhere from 2 to 5 liters of acid water output to cater to the needs of cleaning professionals or clients who can use acid water for sanitizing cutting boards, sinks, counter tops, floors, showers, toilets, and other surfaces. In some cases, acid water finds a useful application in watering flowers and keeping cut flowers fresher longer.
It's plain to see how the LIFE LC-11 Ionizer truly sets a new standard in product design, engineering and filtration. This counter top professional-grade ionizer with a whopping 11 plates, 600 watts of power, high-volume output and up to 4 internal filters—is like purchasing 3 ionizers for the price of 1!LIFE Ionizers™ has consistently carved a niche for itself in the ionizer manufacturing market in the areas of innovation and advanced features, and this time they have reached new heights with the LIFE LC-11. The LC-11 offers the most power, efficiency, flexible options and return on value than any other commercial ionizer at its price point.
###