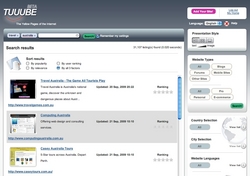 TUUUBE is what we call 'The Yellow Pages of the Internet'
(PRWEB) February 11, 2010
TUUUBE Ltd, today announced the launch of TUUUBE.com. TUUUBE is a self-contained Web directory and contextual search engine that can benefit both the Internet surfers and the Webmasters and other online promoters. This website was created to fill a gap that currently exists, which prevents online marketers, Webmasters and everyday people from getting the accurate and inexpensive publicity they deserve on the Net. At the same time, TUUUBE.com also introduces a powerful contextual search engine that allows users to specify a definition for each of their search terms, as well as many other search criteria, without having to access an advanced search menu.
For Webmasters and online marketers, TUUUBE offers unprecedented and unbiased quality listings for free or at a very affordable price.
After registering (for free), people can list their own site, social media page, forum, etc. with the wording of their choice. They can add as many keywords as they want, write the description that best reflect their site and even upload thumbnails to accent their listings. A listing on TUUUBE offers them more online exposure, which is something many website owners struggle to get. As opposed to other search engines and directories that require robots and/or humans to approve each listing, TUUUBE allows sites to be instantly listed and users then determine how each site ranks based on what they think of the content.
TUUUBE also offers a new and improved search engine experience for Internet users. While TUUUBE's primary goal is not to compete with the major search engines, it will certainly please users who know what they are looking for. The search engine focuses on the intuitive "human" approach to searches. By first determining the context for each word (with a simple click), users are rewarded with relevant search results. For example, users searching for "Apple" can specify if they want to find "the fruit", "the apple in someone's eye" or the "computer company". By doing so, many irrelevant search results are avoided. Additionally, without going through an advanced search menu, users can also narrow down the scope of their searches by specifying geographical locations, languages, website types, etc.
TUUUBE's directory is constantly expanding. It currently includes more than 10 million sites and 1 million more are added each week.
When asked about why he created such a site, Alain Villenave said, "The people at TUUUBE wanted to provide Webmasters, Internet marketers and everyday people with the simplest submission process that would result in top rankings, while creating a contextual search engine that would allow users to find exactly what they want. TUUUBE is what we call 'The Yellow Pages of the Internet'."
To learn more about TUUUBE, visit http://www.TUUUBE.com.
About TUUUBE
TUUUBE was created by Webmasters, marketers and programmers who wanted to offer a better submission and listing process for all website owners and social network page creators. TUUUBE aims to serve both those who publish content and those who are searching for content online.
TUUUBE is a registered trademark of Tuuube Ltd.
"TUUUBE: The Yellow Pages of the Internet"
###