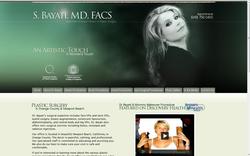 Newport Beach, CA (Vocus) February 11, 2010
In this era of You Tube, Twitter, and other social networking sites, people can stay connected with their friends, family, and others who share their interests more easily than ever before. Dr. Semira Bayati, a plastic surgeon offering procedures such as breast augmentation and liposuction in Orange County, has embraced social media to enhance her practice's online presence. Dr. Bayati is reaching out to past, current, and prospective patients on Facebook, one of the nation's most popular social networking sites.
In creating her plastic surgery practice's Facebook page, Dr. Bayati seeks to provide individuals with an easy way to access before-and-after photos, videos, and information on the various plastic surgery procedures that she offers. Patients considering tummy tuck in Newport Beach and other aesthetic enhancement options can view testimonial videos and hear from those who have already undergone the surgery. Other videos on her Facebook page include a story detailing how Dr. Bayati helped a patient who had lost a significant amount of weight complete his transformation with body contouring surgery.
Plus, women who are interested in the 'mommy makeover' after pregnancy will find several resources that can help answer their questions about the procedure, including a link to an interview that Dr. Bayati conducted with a popular website for stay-at-home moms. In addition, Dr. Bayati's Facebook page allows users to comment directly about the mommy makeover procedure. One user writes, 'Thank you for my mommy makeover. I was a tight size 14, now I am a comfortable size 9/10. Instead of it being a chore to get dressed in the morning, it's fun.' Although everyone has different needs and their results may vary, Dr. Bayati says the user comments provide women with valuable feedback from actual patients who have chosen her for their treatment.
Dr. Bayati also maintains a robust website, linked within her Facebook page, with detailed information about her practice and her procedures, patient forms, financing options, and plastic surgery specials. Those who wish to communicate with Dr. Bayati or other patients through Facebook will find that her profile page is bustling with activity, including many comments from the doctor herself. As social media continues to evolve, Dr. Bayati says she plans to stay abreast of new trends to ensure that she is providing patients with information and answering their questions in the most effective ways possible.
About Dr. Bayati
Dr. Semira Bayati established her Newport Beach liposuction and plastic surgery practice to help patients enhance their confidence about their appearance. She has the distinction of being one of only 45 students in the country who was accepted to medical school directly out of high school.
After graduating with honors form the prestigious Boston University School of Medicine, Dr. Bayati completed her general surgery and plastic surgery training in Springfield, Illinois. She completed three years of plastic and reconstructive training, learning advanced endoscopic and other minimally-invasive techniques. Dr. Bayati also completed a year of training in hand and upper extremity surgery at the Loma Linda University Medial Center. This delicate, detailed specialty helped her to hone her microsurgical techniques.
Dr. Bayati is a board-certified plastic surgeon and is a member of the American Society of Plastic Surgeons. She is also a Fellow of the American College of Surgeons. The results of Dr. Bayati's patients have been chronicled on the Discovery Health Channel multiple times for mommy makeover and for body contouring after massive weight loss; she has also been featured in New Beauty and Inland Empire magazines.
For more information on Dr. Semira Bayati, the procedures she offers, and her social network outreach, the practice can be reached at 20311 SW Birch Street, Suite 200, Newport Beach, CA. 92660 – (949) 756-0400. http://www.drbayati.com
###