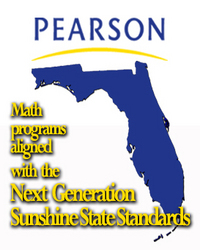 The training and professional development resources that are embedded in our K-12 math programs for Florida as well as the online training and live workshops that complement them are designed to ensure that teachers receive the ongoing preparation required for 21st century teaching and learning.
TALLAHASSEE, Fla. (PRWEB) February 10, 2010
Teacher quality and effectiveness are high priorities for President Obama and Education Secretary Duncan and Florida is one of many states around the country making a significant investment in educator professional development. The education, services and technology company, Pearson, stands ready to help with customized K-12 math programs for Florida with embedded professional development tools designed to ensure that the state's teachers are successful next school year when they introduce Florida's new Next Generation Sunshine State Math Standards to their students.
Pearson's newly developed, comprehensive suite of K-12 math programs for Florida includes the custom training resources and online professional development that teachers will need to implement these new standards and provide their students with a 21st century foundation in math.
"Many of our state's more than 20,000 teachers studied with a Pearson program when they were completing their undergraduate or graduate degrees in education and we are committed to providing Florida teachers with the professional development support that they will need throughout their careers," said Pearson's Vice President for Florida Debbie Campbell. "The training and professional development resources that are embedded in our K-12 math programs for Florida as well as the online training and live workshops that complement them are designed to ensure that teachers receive the ongoing preparation required for 21st century teaching and learning."
Pearson's K-12 math programs currently being reviewed by Florida school districts include all the resources teachers need for successful instruction embedded right in the lessons. All grade levels of Pearson's new K-12 math programs for Florida include the background for teaching each lesson, links to the appropriate Next Generation Sunshine State Standards, suggested instructional strategies and support for differentiating instruction and meeting the individual learning needs of English Language Learners and special needs students. The math background information accompanying the programs also features support for ensuring students build the skills outlined by the Science, Technology, Engineering and Mathematics (STEM) Education Coalition. In addition, when the new programs debut in classrooms at the start of the 2010-11 school year, teachers can turn to http://www.myPearsonTraining.com and access free online tutorials and webinars that support Pearson's Florida math programs.
http://www.myPearsonTraining.com will offer K-6 teachers tutorials for teaching with both the print and digital path for enVisionMATH Florida, a newly developed, innovative, research-based curriculum customized to the Next Generation Sunshine State Math Standards. Online professional development for enVisionMATH Florida includes instructional strategies for teaching lessons aligned with the new Florida math standards as well as for using the online test generator that comes packaged with the program.
Florida elementary teachers will also have access to a series of new professional development CDs featuring the authors of enVisionMATH Florida. An extension of the math background for the program, the CDs provide additional information on math concepts and questions and answers on instructional strategies on topics ranging from Algebra and Geometry to measurement and problem solving.
Beginning in the fall of 2010, middle school teachers teaching with Florida Mathematics 1, 2, 3 will find step-by-step training and resources on http://www.MyPearsonTraining.com, including tutorials on planning their instructional calendar for the entire school year. The online training site will also offer high school math teachers tools and resources for teaching with Prentice Hall Algebra 1, Geometry and Algebra 2 ©2011 for Florida as well as resources for working with their students who are learning with MathXL® for School, a comprehensive Web-based program.
MathXL for School also features complimentary "Teacher Refresher Courses" to help teachers brush up on math before the first day of school. Florida teachers can take advantage of these free online courses in Arithmetic Review, Prealgebra Review, Algebra Review (includes Algebra I and II) and Precalculus Review (includes College Algebra and Trigonometry).
Campbell continued, "The professional development resources embedded in our K-12 math programs for Florida give teachers the tools they need to immediately begin teaching to the new standards. In addition, Pearson's Teacher Education and Development Group offers teachers, schools and districts that are looking for additional ways to enhance teacher training and development a wide variety of professional development tools and resources -- both online and traditional -- developed by leading education experts."
Pearson's Teacher Education and Development Group is the only business in the education industry that is completely dedicated to supporting the education and professional development of teachers from preparation through practice, with content and services that represent the research and knowledge of America's leading education researchers. Respected imprints and programs which Florida teachers are likely already familiar with, include Allyn & Bacon, Merrill and MyEducationLab and provide today's students who will be tomorrow's teachers with powerful insights and applications into how real-world classrooms work.
Practicing Florida teachers will benefit from evidence-based professional development programs in mathematics, literacy, RTI and for English learners that help improve the academic achievement of diverse student populations, including the recently acquired A+RISE business. In addition, Pearson's SIOP® Model offers a specific, proven pedagogical approach to teaching both content knowledge and language skills, and has helped instruct millions of students in the United States. Pearson's other research-based offering for educators and school improvement includes Learning Teams, which helps teachers focus the 21st century skills of collaboration and problem solving on improving student achievement.
In addition, Pearson offers research and evaluation services in order to help school districts measure the impact of their professional development initiatives and provide critical insights to guide decisions about follow-up training and support.
For more information about Pearson and its support for math education in Florida, visit http://www.mathforflorida.com, an interactive Web site developed to offer teachers activities for teaching to the current math standards and making the transition to the new standards. The site includes videos, visual learning animations, problem-based interactive learning activities, and printables, games and puzzles so that teachers can familiarize themselves with what to expect in the future without sacrificing content they need for their students today.
About Pearson and Florida
Pearson (NYSE:PSO) has been providing learning materials to Florida schools for more than 100 years. As the world's leading education and technology company, you may know us individually as Scott Foresman, Prentice Hall, Longman, SuccessMaker, NovaNET, PowerSchool, SuccessNet, and so many more - names in the world of education that are recognized and respected across the state and the globe. We provide education and testing materials from birth through professional learning as well as the complex management systems that maintain student information data for thousands of schools. Our Pearson people are living and working in every school district across the state, and visiting teachers, principals and curriculum directors every single day. In fact, most teachers in Florida have learned their profession by studying with Pearson's Merrill or Allyn & Bacon textbooks, and many have benefited from our professional development programs.
We are your education partners today, tomorrow and for the future and will continue to invest in the very best instructional materials, teacher education, technology advancements, and services to help you and your students achieve success for generations to come. Like Florida's educators, we are stable, resilient and unwavering in our commitment to our children. The challenges of today's economy will not deter us from our mission to create innovative educational solutions customized to align with Florida's standards for 21st century learning. For more information, visit http://www.mathforflorida.com or http://www.pearsonschool.com.
Contact:
kate(dot)miller(at)pearson(dot)com
800-745-8489
# # #