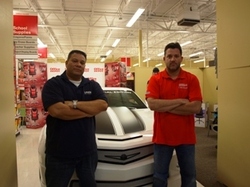 Helping severely injured children really hits home – I have a daughter, and it is good to know that there are people like Tony out there who care enough to help these kids.
Miami, FL (PRWEB) February 11, 2010
Will Castro's heart is nearly matchless in size. Philanthropy is a big part of his life, and his team of builders, customizers and technicians at Unique Autosports South in Miami have built the Unique Smoke Edition Camaro and presented it to Tony Stewart as part of the Tony Stewart Foundation "Unique Smoke Edition Camaro Raffle" in conjunction with Charity Splits.
On Tuesday, February 9, 2010, Castro and his team delivered the Unique Smoke Edition Camaro to Stewart at Ormond Beach, Florida to kick-off this national fundraising event. The raffle will raise money to assist critically ill or severely injured children, drivers injured in the sport of motor racing, and animals that are endangered or abused. Tickets can be purchased online for $50.00 at http://www.SmokesCamaro.com or http://www.TonyStewartFoundation.org. The car will be on display at Stewart-Haas Racing, located in Kannapolis, NC. It will be raffled-off July 26 following The Brickyard 400 at Indianapolis Motor Speedway.
The Grand Prize winner of the Unique Smoke Edition Camaro Raffle will receive:

The Unique Autosport Edition Smoke's Camaro Coupe 2SS in Summit White
Expense paid trip to Stewart-Haas Racing located in Kannapolis, NC
Personal VIP Meet & Greet with Tony, who will hand over the keys
In addition to the Grand Prize, more than 70 Early Bird Prizes will be awarded. Each prize is valued from $50 to more than $1,000.
Two-time NASCAR Champion Tony Stewart ("Smoke" to his friends and fans) is known for his competitive nature, for his role as team-owner of Stewart-Haas Racing, and for his dedication to philanthropy. Like Castro, Stewart is a successful business owner with a big heart, and like his aggressive racing style, he also pushes the limits to help others through his Tony Stewart Foundation.
The grand-prize 2010 Unique Smoke Edition Chevrolet Camaro 2SS features a distinctive blend of custom touches. The exterior features Strut wheels wearing 22" Pirelli tires, Strut grille, Spies Hecker paint on a Glam Effect body kit by Classic Design Concepts, smoked tail lamps, and tinted windows. A Roadwire interior adds comfort and style, and JL Audio equipment keeps tunes loud and clear. Performance by K&N feeds the V8 beast, with an all new state-of-the-art filter and intake system that will boost power of the 400 bhp Camaro substantially, while the Borla Exhaust system gives the car a throaty roar. Baer Brakes slow everything down in a hurry, and look fantastic behind the 22's.
Castro's new team at Unique Autosports South in Miami, Florida completed the build, and has prepared the car for its delivery to one lucky grand prize winner.
"I've known Tony for years," said Castro. "We have customized several vehicles for him in the past, including the Smoke Hearse on our television show, and this year, Tony reached out to us to customize a Camaro 2SS for his Foundation. Helping severely injured children really hits home – I have a daughter, and it is good to know that there are people like Tony out there who care enough to help these kids. I know that Tony is doing it for a good cause and am honored that he asked the team at Unique Autosport to be an integral part of the project, that's what friends are for."
The 2010 Unique Smoke Edition Camaro build will be broadcast April 11th during the new season of Unique Autosports: Miami which premiers on Spike TV Sunday, February, 28th at 10:30 – 11:00am (ET/PT) The new star-studded eight-episode half-hour series, produced by Facio Productions, Inc. will run as part of Spike's successful weekend PowerBlock programming.
"Working with Will and his crew is always a good time! Our foundation had this awesome 2010 Camaro 2SS and Will offered to customize it. He took an outstanding muscle car and has made it a sweet ride for one very lucky winner. It's a great opportunity to be included in Will's new series that airs on Spike TV. Exposing his viewers to our foundation is a true added bonus. The money raised through this raffle, conducted by Charity Splits, Inc., goes directly to help the kids, animals and injured drivers we serve. Will and I have the same heart in helping others."
Since 2004, more than $4.0 million has been awarded nationally to charitable organizations serving children, animals or injured motorsports drivers. And, Smoke is just getting started! Learn how you can help by visiting the foundation Web site.
For more information on how to buy a Camaro ticket, please visit http://www.SmokesCamaro.com, http://www.TonyStewartFoundation.org and http://www.uniqueautosport.com.
Owned by Will Castro, Unique Autosports has been recognized as a leader in car customization for more than ten years. Production of the series Unique Autosports South takes place at the Unique Autosports' 20,000 square-foot garage/global headquarters in Miami where the Unique Team customizes vehicle for its star-studded clientele and ships their Unique Special Edition vehicles around the globe. Unique also customizes yachts and unique high-end homes for exclusive clients and has a clothing line.
Media Contacts:
Will Castro, Unique Autosports
305.871.1400 will(at)uniqueautosport(dot)com
Joe Severns, Integrated Marketing Communications
706.506.2195 severns(at)mchsi(dot)com
###