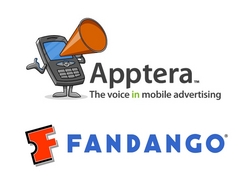 Consumers are increasingly using mobile devices to make their moviegoing decisions and our voice-based 1-800-FANDANGO application is a key service...
San Bruno, CA (PRWEB) February 11, 2010
Apptera (http://www.apptera.com), a pioneer and leading voice and visual mobile advertising network, and Fandango (http://www.fandango.com), the nation's leading movie ticketing destination, today announced they have signed a multi-year agreement. Under the terms of the agreement, Apptera will develop and operate Fandango's 1-800-FANDANGO interactive voice recognition movie show time and ticketing phone service. Fandango will also become part of Apptera's MobileAd Xchange™ and exclusively leverage its voice and visual mobile advertising technology and sales team to monetize its calls. When the new service is launched later this year, Fandango callers will benefit from a new and improved speech-based interface and be able to receive relevant promotions and meaningful offers based on their location, movie selections and interests.
For the first time with Apptera's proprietary technology and advanced ad serving capabilities, Fandango and Apptera will be able to offer marketers highly targeted and effective voice and visual mobile advertising solutions at scale. With the addition of Fandango to Apptera's MobileAd Xchange Entertainment Channel, marketers will be able to reach over 60 million callers a year. Apptera studies show that callers to these services are a loyal and active group of entertainment enthusiasts who see an average of 3.4 movies per month and purchase approximately 2.5 tickets per movie. As such, the companies estimate that marketers will be able to reach and influence over 200 million moviegoers.1
"Consumers are increasingly using mobile devices to make their moviegoing decisions and our voice-based 1-800-FANDANGO application is a key service which we offer them," said Chuck Davis, Chief Executive Officer of Fandango. "We are excited to partner with Apptera to leverage its robust voice application technology and to provide its innovative suite of mobile advertising solutions to marketers."
"We are excited to welcome Fandango to the Apptera MobileAd Xchange. This partnership is a milestone for Apptera and solidifies our leadership in the entertainment segment of the fast-growing mobile ad market," said Henry Vogel, Apptera's President and Chief Executive Officer. "Fandango has a terrific brand and we look forward to providing their loyal customers with a world-class, hands and eye-free phone service with relevant voice and visual mobile content."
Apptera's voice and visual mobile advertising technology dynamically inserts relevant and interactive audio messages into calls based on a variety of targeting parameters such as a caller's location, mobile carrier, interests and behavior. Apptera's audio ads are also the starting point for a wide range of visual engagements and mobile interactions. Consumers can listen to audio messages and opt in to receive instantaneous or scheduled SMS text messages, mobile coupons or links to WAP sites and smart phone application downloads; MMS messages with embedded videos formatted for their devices; enhanced call services such as immediate transfers to, or callbacks from, sales agents; or subscription offers to various mobile services billed directly by their mobile carriers.
For example, callers requesting show time information for a G-rated movie could hear a clip from another upcoming family-targeted film and opt in to see a video trailer on their mobile phone. Or, callers who purchase advance tickets for an evening showing of a romantic comedy could also hear and opt in to receive a coupon for a free drink or entrée texted to their mobile device from a restaurant located near their movie theater. Apptera's innovative voice and visual mobile technology essentially guarantees that advertisers can speak directly to their target audience, build brand awareness and deliver meaningful brand engagement and direct response conversions. As a result, Apptera's mobile ads not only generate very high consumer recall (30% – 80%) and engagement rates (over 7% average opt in rates), they also deliver measurable results and impressive returns on investment.2
1 Based on MPAA research, Apptera's Oct 2009 survey of callers to its MobileAd Xchange Entertainment Channel services, and company estimates.
2 Apptera MobileAd Xchange campaign performance results and surveys
About Apptera
Apptera is the world's leading voice and visual mobile ad network, generating revenue for leading players in the entertainment, communications, social media, financial services, retail and other industries. Apptera's MobileAd Xchange delivers relevant voice advertisements in-call as well as follow-on visual mobile interactions. Members of the Mobile Ad Xchange and customers of Apptera's technology include AOL's Moviefone, MovieTickets.com, AT&T's 1-800-YellowPages, iCall, HeyCosmo's Blaster social planning service, Bank of America, SaveMart supermarkets, GSI Commerce and many others. Privately funded by leading venture capital firms including Alloy Ventures, Lightspeed Venture Partners, and Walden International, Apptera has a presence in San Bruno and Los Angeles CA, Chicago and New York. For additional information, visit http://www.apptera.com.
About Fandango
Fandango is the nation's largest online and phone movie ticketing service. One of the Web's top entertainment destinations, Fandango sells tickets to more than 16,000 screens. Fandango entertains and informs consumers with reviews, commentary and trailers, and offers the ability to quickly select a film, plan where and when to see it, and conveniently buy tickets in advance. Fandango is available at http://www.fandango.com, at 1-800-Fandango, and via your wireless mobile device at mobile.fandango.com. Fandango is a unit of Comcast Interactive Media.
###