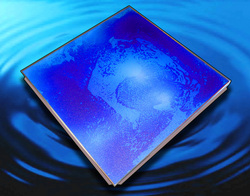 Liquid Fusion tiles are revolutionary and a great interactive flooring product that changes the way we look at flooring. They are fun, colorful and totally playful. Walking on these liquid lava-like gel tiles brings out the kid in all of us.
Los Angeles, CA (PRWEB) February 16, 2010
Holo-Walls, LLC, developers of the unique portable Liquid Fusion floor tiles and table systems, has launched their new "Aqua" series Liquid Fusion portable floor system to their rental inventory.
Born from the popularity of the company's "Purple/Orange" liquid lava-like tiles, the "Aqua" line features two opposing colored liquids in a blue and dark blue pattern creating the illusion of walking or dancing on water. Each tile is 40 inches square with a total thickness of only .75 inches. The light-weight modular liquid-filled tiles are made up of two sheets of PVC with an anti-slip surface that are combined and sealed with two opposing colored liquids that swirl around each other as pressure is exerted along its surface. Each tile is set into a custom "tongue and groove" interlocking aluminum frame system which requires little effort for installation and removal. Dancing, walking and other surface activity stimulates the play of colors and forms in continuous evolution as the memory trace of footprints are left behind then, gradually, the encased colored liquid fills back in like the ocean wiping away imprints in the sand.
Holo-Walls has available for rental a total of 64 completed modular tiles – enough to create a 28 by 28 foot dance floor or other flooring applications including fashion show runways, walkways, platforms, stage surfaces, trade shows, exhibits, events, weddings and displays. Tiles are crated for easy shipping anywhere in North America with installation being handled locally with only a screwdriver required for assembly.The durability of the materials and construction makes it safe for all types of foot traffic and activity including high heels, vehicles, products and heavy equipment.
Photo and video examples of the Liquid Fusion liquid-filled flooring tiles and tables can be seen in the gallery section of the website. All Liquid Fusion products can also be purchased with or without the framing system.
"Due to the success of our Purple/Orange series, we believed the next logical choice for a rental system would be in a blue color which has an environmental message. Blue, as they say, is the new green, " said Kevin McCarthy, President and founder of Holo-Walls. "Our Liquid Fusion line has everything one would want in a fun, hip floor system with total interactivity, wonder and joy. Kids certainly love it and adults enjoy it just as much. Watching people step on this floor, the expressions and comments are priceless. Now we can take it to the masses anywhere and anytime."
Contact
Kevin McCarthy
Holo-Walls, LLC
818-735-3565
http://www.holowalls.com
About Holo-Walls
Holo-Walls, LLC of Westlake Village California, provides unique visual elements including a new holographic PET film using a state-of-the-art embossing process to create panoramic, visually stunning multi-colored dimensional film patterns that come to life with blazing razor-sharp hues, depth, and sharpness with unparalled clarity. The company produces twenty unique film patterns that provide designers with an inexpensive alternative for creating stunning visual effects that add color, depth and dimension for almost any application working with any type of lighting. All come standard with pressure sensitive adhesive. Liquid Fusion tables and floors are the company's latest addition to its cache of specialty items.
###