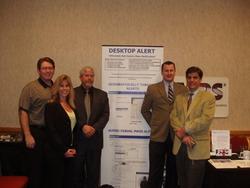 We congratulate Desktop Alert on this accomplishment and acknowledge the valuable contributions the company makes as part of the OASIS Emergency Management Member Section, said Laurent Liscia, executive director of OASIS
Washington, DC (PRWEB) February 10, 2010
Desktop Alert, provider of Command and Control Mass Notification Systems, today announced that nearly two thirds of the United States National Guard state headquarter locations have deployed the Desktop Alert Mass Notification System since October 2009.
A key component in the deployment is Desktop Alert's support for the Common Alerting Protocol (CAP), an open standards developed by the OASIS international not-for-profit consortium. Part of the Emergency Data Exchange Language (EDXL) suite of standards, CAP provides an XML-based message format for exchanging public warnings and emergencies between alerting technologies.
"CAP allows a warning message to be consistently disseminated simultaneously over many warning systems to many applications. CAP increases warning effectiveness and simplifies the task of activating a warning for responsible officials," explained David Zadick, President of Desktop Alert. "Our company is required by DoD to enable information sharing (alerts) between various DoD organizations. CAP information sharing amongst DoD agencies eliminates information silos from the past. It's all about rapid actionable intelligence and CAP provides exactly that."
"The U.S. National Guard's widespread deployment of Desktop Alert's CAP-compliant systems represents a significant milestone in the adoption of CAP," said Laurent Liscia, executive director of OASIS. "We congratulate Desktop Alert on this accomplishment and acknowledge the valuable contributions the company makes as part of the OASIS Emergency Management Member Section."
Desktop Alert was a key participant in the OASIS interoperability demonstration of EDXL and CAP at the Technologies for Critical Incident Preparedness (TCIP) Conference and Exposition, which was held in Philadelphia 2-4 February 2010. Simulating an incident defined by the U.S. Department of Homeland Security (DHS) and the National Oceanic and Atmospheric Administration (NOAA), the demo showed how authorities, responders, broadcasters, and other services providers can use EDXL to enact a concerted, coordinated emergency response.
Desktop Alert collaborated with other OASIS members including Warning Systems, Inc. (WSI), CellCast Technologies, MyStateUSA, DHS, NOAA, U.S. Federal Emergency Management Administration (FEMA), Safe Environment Engineering, Solace Systems, and others.
###