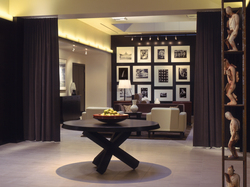 "We are thrilled about this recognition," said Howard Jacobs, President and COO of Provenance Hotels. "While we think the property is very sexy, it is extremely rewarding to know that our guests also find the property to be high on the "sexy index!"
Portland, Ore. (PRWEB) February 11, 2010
Hotel Lucia, a downtown Portland hotel, makes the Top 10 Sexiest Hotels list by TripAdvisor, the largest travel community in the world. Editors at the popular travel site revealed the list based on the "sexy index" which calculated the number of times travelers use the term "sexy" in their TripAdvisor reviews.
"We are thrilled about this recognition," said Howard Jacobs, President and COO of Provenance Hotels. "While we think the property is very sexy, it is extremely rewarding to know that our guests also find the property to be high on the "sexy index!"
Portland, Ore.'s, Hotel Lucia has quickly risen to the top of the world's urban luxury hotel scene with a bundle of accolades from international media and travelers alike, including Travel + Leisure's Top Hotels in the World listing in 2010 and Condé Nast Traveler's Gold listing in 2009. The small, downtown Portland hotel is stylish and cosmopolitan yet friendly and unpretentious. A dedicated clientele of Hollywood stars, music celebrities, politicians and business leaders call the hotel home when they visit Portland.
The Hotel Lucia is known for its central downtown location, as well as its reputation for the highest customer service and its focus on art, design and luxury. With Pulitzer-prize-winning Photographer David Hume Kennerly's work lining the corridors and rooms in the hotel, the Lucia brings forth a story around the arts for its guests.
About Hotel Lucia
Centrally located at 400 SW Broadway in the heart of downtown Portland, Hotel Lucia – Travel + Leisure Top Hotels 2010 – offers an artsy boutique setting steps away from the city's best shopping, restaurants and night clubs. This comfortable hotel extends more-than-friendly rates for all 127 guest rooms and indulgent but essential amenities, including high-speed wireless Internet access, Pillow Menus, Spiritual Menus, iPod Menus and a "Get it Now" button on every hotel phone for the most whimsical or practical desire. The Hotel Lucia can be found on the Web at http://www.hotellucia.com. Reservations are available online or by phone at 877.225.1717.
# # #