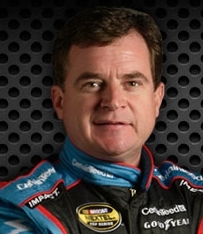 This year we're melding our high-performance racing skills with a high-performance marketing team for a unique approach to race sponsorship and an opportunity for our fans to help make 2010 the best year ever for car #87!
New York, NY (PRWEB) February 11, 2010
In yet another display of his resourcefulness and dedication to racing, NASCAR legend Joe Nemechek, owner of NEMCO Motorsports, has launched a new ad-sponsored web site, http://www.FrontRowJoe.com, to enable fans to support him and his team as they compete during the 2010 NASCAR racing season. Through a strategic partnership with MediaTrust, the country's 9th fastest growing company according to Inc. Magazine, and NEMCO's agency of record Global Media Minds, Joe will earn commissions on sales of top quality products sold through the site to help offset the operating cost of his team.
Backed by an unsponsored, small but hard working team, the 17-year NASCAR veteran qualified third fastest of the "go or go home" drivers in the Saturday, Feb. 6 time trials, locking in his 16th starting position in the upcoming Daytona 500. In Sunday's race, Joe's #87 car will prominently display his sponsorship - http://www.FrontRowJoe.com. Joe earned the name early in his career for his unfaltering ability to qualify near the front row in pole positions.
"As a past Nationwide Series champion with 16 Nationwide wins and four NASCAR Cup victories, I know the true meaning of getting paid for performance," said Joe Nemechek. "This year we're melding our high-performance racing skills with a high-performance marketing team for a unique approach to race sponsorship and an opportunity for our fans to help make 2010 the best year ever for car #87!"
Fans who visit the site will be able to support the team by taking advantage of "Joe's picks," a number of national brands and products endorsed by Joe. A portion of every sale will go directly to NEMCO to help offset the cost of keeping his team on the racetrack.
"Combining offline and online advertising into a performance-based sponsorship is truly revolutionary," said Peter Bordes, CEO of MediaTrust. "We're excited to work with Joe and his team to showcase the value of the performance marketing model and help accelerate his progress in 2010."
The #87 NEMCO Motorsports Toyota spent last season without title sponsorship, a scenario the team plans to avoid this season.
"Watching Joe and his team work so hard last year, out-qualifying the bulk of the field most weeks, with so much less than anyone else, is a testament to the abilities of this team," says Kristen Orton, president of Global Media Minds, the agency hired last month to help procure sponsorship for NEMCO in 2010. "This combination of a competitive mindset and a willingness to try something new is what makes NEMCO such a great value in racing today."
MediaTrust and Global Media Minds are the exclusive partners of NEMCO
Motorsports. http://www.FrontRowJoe.com is still taking on new sponsorships for future NASCAR cup races. To become an advertiser on http://www.FrontRowJoe.com please contact Peter Ettenborough at pettenborough@mediatrust.com. To learn more about sponsoring Joe's car, please contact Drew Seifried, vice president of sponsorship at drews@globalmediaminds.com.
About MediaTrust
MediaTrust makes pay-for-results online advertising easier. MediaTrust offers an innovative online technology platform, supported by best-in-class service, and access to the best direct response advertisers and affiliate publishers in the industry. MediaTrust enables its publisher and advertiser partners to easily create and deploy pay-for-performance marketing campaigns that deliver leads and sales. In 2009, the Company was ranked 9th fastest growing U.S. Company by Inc. Magazine and the number one performance marketing network on mThink's online advertising Blue Book list. Founded in 2004, MediaTrust is headquartered in New York City with offices in Toronto and Santa Barbara.
For more information on MediaTrust's pay-for-results advertising and publishing solutions, please visit: http://www.mediatrust.com, or follow the company blog: blog.mediatrust.com, or call 1-877-987-8785. MediaTrust news and updates can also be found on Twitter (@MediaTrust) and Facebook (http://www.facebook.com/mediatrust).
About Global Media Minds
Based in Phoenix AZ, Global Media Minds is a full-service advertising agency specializing in creative and media buying for print, television, radio, internet and Sports Sponsorship Implementation and Management. Global Media Minds uses nationally recognized and respected research programs to provide companies with opportunities to achieve optimum results. Global Media Minds also has a full service sports sponsorship division that specializes in implementing and managing fully integrated sports sponsorship campaigns for prestigious sports such as NASCAR. For more information please visit GMM's website at http://www.globalmediaminds.com or call Drew Seifried 480-921-3171.
###