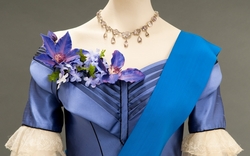 The fashion college's annual exhibition, which gives fashion and film fans the chance to get up close to actual costumes from top films, is free to the public
Los Angeles, CA (PRWEB) February 12, 2010
They're ready for their close-up! FIDM/The Fashion Institute of Design & Merchandising Museum & Galleries' 18th annual "Art of Motion Picture Costume Design" exhibition at the Los Angeles campus opens to the public on Tuesday, February 9, 2010.
The fashion college's annual exhibition, which gives fashion and film fans the chance to get up close to actual costumes from top films, is free to the public and open Tuesday through Saturday from 10 a.m. to 4 p.m. It runs through April 17, 2010.
Several hundred fashion fans, including costume designers Arianne Phillips ("A Single Man") and Monique Prudhomme ("The Imaginarium of Doctor Parnassus"), turned out for the opening night celebration, which was held in an elegant tent on Grand Hope Park at FIDM.
Revelers, including "Project Runway" alums Nick Verreos and Andrae Gonzalo, enjoyed being among the first to view the exhibition, which features more than 100 costumes from over two dozen of last year's movies such as "Julie & Julia", "Star Trek", and "Where the Wild Things Are".
The exhibition features costumes from "The Young Victoria", "Nine", "The Imaginarium of Doctor Parnassus", and "Bright Star", all 2010 Academy Award nominees for Best Costume Design. Also on display are fashions from "The Duchess", the 2009 Academy Award® winner for Best Costume Design.
FIDM Museum & Galleries, 919 S. Grand Ave., Los Angeles, CA 90015, 213.624.1200; fidm.edu.
# # #