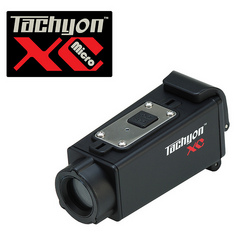 Students capture and share their uncensored and wild spring break moments.
Dallas, TX (PRWEB) February 12, 2010
Tachyon™, Inc. –Tachyon helmet cameras announces a limited-time promotion that allows college students to capture and share their uncensored and wild spring break moments, at a price even they can afford. Whether it's recording a friend getting crazy up on stage, surfing with some new beach-bum friends, or snowboarding in Tahoe, the Tachyon XC Micro allows users to record whatever they want, view it on their computer or TV, and post it to YouTube®; it's that easy.
The Tachyon XC Micro, a brand new point-of-view camera from Tachyon, Inc., pushes the technological envelope with a battery life of over 4 hours* and a compact, concealable design. Tachyon's mountable "helmet camera" can be hand-held or easily attached to almost anything: hats, vehicles, ski-boots, surfboards, etc. This rock-solid helmet cam is waterproof and shockproof so users can take it anywhere, including hot tubs and the ocean. The simple, one-button, design makes recording effortless and the tiny XC Micro also doubles as a self-contained, wireless, hidden camera.
The camera is plug-and-play with both PC® and Mac® so there's no bothersome software to install. Everything records right onto an SD card, just like a digital camera. A composite AV cable allows video preview on a TV if a computer is not available.
"People everywhere share their lives on the web. " said Jeff Francis, Operational Director for Tachyon, Inc. "Video posting is not just another form of media; it's fast becoming a new method of communication. Tachyon XC cameras offer people the ability to record video in locations where they once could not and at price that even college students can afford."
Tachyon, Inc. offers a tremendous deal to college students with a ".edu" email address. Students or faculty with a ".edu" email address will receive a free 8GB Micro SDHC memory card with the purchase of Tachyon XC Micro package and 4 x AAA Energizer® Ultimate Lithium Batteries, saving of $50 off of the original price of $198 .
To take advantage of this special offer ending March 31st, college students can order the Tachyon XC Micro and AAA Energizer® Ultimate Lithium Batteries from Tachyon's web-store. Anytime Tachyon sees a ".edu" email address in an order, they will send a verification email to the address. Students must reply back from their ".edu" email to receive the free card.
If students put their video on YouTube with the tag "Tachyon XC Micro," Tachyon may chose to promote the video and possibly send a prize: http://www.tachyoninc.com/2010videosamples.html
About Tachyon, Inc.
Lewisville, TX based Tachyon™ Inc., is the premier innovator of durable, extreme helmet cams. The Tachyon XC's ease-of-use, durability, recording time and quality, and integrated waterproofing design make Tachyon the trusted and go-to helmet camera source for people who engage in a wide-range of extreme activities. Tachyon, Inc. is an accredited member of the Better Business Bureau. For additional information, please visit http://www.tachyoninc.com
*Tachyon, Inc. recommends Energizer® Ultimate Lithium batteries. Size AAA for the Tachyon XC Micro to allow over 4 hours of battery life.
Terms and conditions:
Offer ends March 31, 2010. Orders in the USA, add $10.85 shipping for USPS priority mail; estimated delivery time is 2-5 business days. Faster shipping methods are available at an additional cost.
###