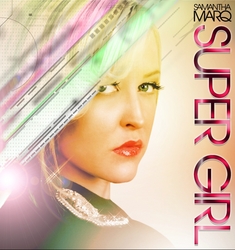 Los Angeles (PRWEB) February 15, 2010
Independent recording artist Samantha Marq has joined the ranks of established dance music acts Tricky and Thievery Corporation with a featured song in MySpace Music's Hit Machine game on the popular real time gaming site, OMGPOP.com. Starting today, users will be able to tap their keyboards to play along with Marq's girl power anthem "Super Girl," the first single from her debut album The Evolution of Love in Dysfunction. Besides racking up the highest scores among their friends, registered users will also have the opportunity to win hot music hardware, including an iPod Shuffle, iPod Nano and iPod Touch, just by playing "Super Girl" – the more plays, the more chances to win.
Marq's partnership with OMGPOP is a natural extension of the release strategy for her album. Recognizing the shift of music distribution to digital platforms, she is releasing The Evolution of Love in Dysfunction solely online via her website SamanthaMarq.com. Utilizing an Interactive Multimedia Archive (I.M.A™) developed by Marq's label BreathTaker and her producer K.O.'s production company Hevikoncepts, each song will be marketed with unique imaging and artwork, video content, and custom multimedia. Inclusion in MySpace Music's Hit Machine game on OMGPOP.com is just one aspect of the interactive experience that Marq is offering her fans in conjunction with the release of "Super Girl."
Marq grew up in Virginia Beach surrounded by the music industry's top talent. Her father Michael Marquart – a musician in his own right as part of the '80s supergroup A Flock of Seagulls – owned the prestigious recording studio Windmark Recording, where Marq watched as Justin Timberlake recorded Justified and the famed production duo The Neptunes recorded a majority of their work. Marq's early exposure to music expanded to her own passion, and after eagerly participating in school and camp performances, in addition to singing the National Anthem at a Nashville Predators NHL game, Marq moved to Los Angeles to pursue a professional career. After a few collaborations with different producers, Marq was introduced to rapper/producer K.O. (whose credits include Britney Spears, Leighton Meester, Lil Flip, and the film Stomp the Yard), and her musical dreams finally took off. She is excited for the release of her debut album and believes that The Evolution of Love in Dysfunction – which chronicles a woman's journey through a dysfunctional relationship and how her feelings and views on love evolve - will both entertain and inspire women of all ages.
About BreathTaker and Hevikoncepts
BreathTaker is an independent record label founded by musician Samantha Marq. Hevikoncepts is a production company founded by rapper/producer K.O. that, in addition to Samantha Marq, counts Britney Spears, Leighton Meester, Lil Flip, Kara Dioguardi, Shifty Shellshock, Clinton Sparks, and the films Stomp the Yard and Step Up 2: The Streets among its clients. Both companies were launched in 2008 in Los Angeles and are dedicated to exposing new talent by harnessing digital technologies and new media marketing strategies.
About OMGPOP:
OMGPOP started in 2006 as iminlikewithyou and has been making real time games ever since. Millions of members log in every day to play games, hang out in chat, share photos on picture club and meet new friends. OMGPOP is funded by Spark Capital, Bessemer Venture Partners, Baseline Ventures and Betaworks, as well as angel investors including Ron Conway and Marc Andreessen. You can see the OMGPOP team online, noted by their crew badges. Offline, the team is based in New York City. The company was founded by Charles Forman. E.J. Mablekos is the CTO and Dan Porter is the CEO.
# # #