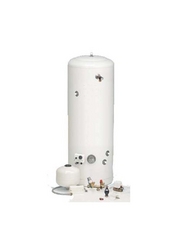 I believe in Advanced Water Company we have found the most forward thinking, dynamic business in the unvented water cylinder spares sector, Stuart Doggrell
(PRWeb UK) February 13, 2010
Advanced Water Company has today released news that since the launch of their new look website Unvented Cylinder Spares sales have increased dramatically. Full spares breakdowns can be found at http://www.advancedwater.co.uk
The Unvented Cylinder Spares section of our website was updated before Christmas and with more manufacturers and their spares being added each month this is consistently growing. The objective is to stay ahead of the market and to have all of the available spares from all manufactures, no matter how big or small, on our website.
Our list of manufacturers include the large names of Heatrae Sadia, Santon, Kingspan & Redring to the smaller companies who are progressing in the market such as Advance Appliances & Allbrite. As we have 10 years experience in the Unvented Cylinder Market we also hold back catalogues which enables us to stock spares for Cylinders such as Protea, Titan Flomaster, Elson Gold and many others which are now obsolete.
Richard Prince, E-Commerce Manager of Advanced Water Said:
Adding new product lines to our website is no small task. Each manufacturer has many models and large numbers of Unvented Cylinder Spares to apply to the website, this meant we had to go back through our archives to ensure all information was correct and present at the time of launch. With the added product lines this enables us to identify the strong areas of our website and we can concentrate more on the 'cost per click' campaigns to ensure our customers get to the correct pages from search engines. When customers arrive at the chosen page they will find our website easy to use as we have exploded diagrams and also spares images where possible, this again was a time consuming task as we had to ensure we had covered all changes by manufacturers throughout the years.
As we are ever growing and expanding into other areas such as Solar and Underfloor Heating we will be adding more product lines to keep up with market requirements, again we will be using a similar format to help consumers when choosing the correct items.
Advanced Water have been recognised by a number of manufacturers as the distributor of Unvented Cylinder Spares and handle referrals for many companies with the most recent being Stiebel Eltron.
Stuart Doggrell, National Account Manager at Stiebel Eltron UK Ltd said:
'Our spares business has always been hugely important to us at http://www.stiebel-eltron.co.uk and after a company re-structure in 2008 we needed a trustworthy company in which we could develop a lasting relationship delivering a high quality water heating spares service - I believe in Advanced Water Company we have found the most forward thinking, dynamic business in the unvented water cylinder spares sector'.
Due to the nature of the Unvented Cylinder and the risks involved if they are not correctly maintained we ensure that our staff are fully trained on the products we supply and give true and honest advice where possible, we will soon be training staff to ensure they hold a Non Installers Unvented Certificate as consumer safety is very important to Advanced Water Company. Such commitment to safety means we are recognised by the leading manufacturers such as Reliance Water Controls, Emmeti and Watts Industries and with this knowledge they have enlisted us as the UK spares distributor for their products.
Stewart Robinson:,Managing Director of Advanced Water Said:
Advanced Water Company will be celebrating its 10 year anniversary this year, over this time we have become an industry leader in the distribution of Unvented Cylinder Spares. Throughout the past 10 years we have secured great relationships with all manufacturers enabling us to supply spares for all Unvented Cylinders. As we were continuously growing we moved premises in January of 2008 to enable us to stock more product lines and to increase our customer satisfaction with next day deliveries, we are now installing a mezzanine floor and doubling our warehouse space so we can hold more stock and increase our customer service.
Advanced Water are an Evesham based company operating from a 5,000 square foot purpose built warehouse and offices. The company was founded by Directors Stewart and Alan Robinson in 2000. Stewart Robinson then became the sole owner of Advanced Water Company in 2006.
###