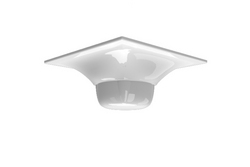 There is a constant drive for integrated solutions that can cover all the bases, with the flexibility to enable system upgrades without complete infrastructure change. The CMWB-038-6 can facilitate all of these demands
Barcelona, Spain (PRWEB) February 14, 2010
Panorama Antennas, the specialist RF antennas company, today launches the next generation of In-Building antennas. Designed to support a multi-service, multi-operator wireless environment, the CMWB-038-6 operates on the full wireless spectrum, from 380MHz through to 6GHz in a single antenna.A true wideband system, Panorama's CMWB-038-6 allows businesses and facilities to support multi-service / multi-operator wireless coverage. Any number or combination of services are supported – including TETRA UHF, GSM 400, AWS 700MHz, Quadband GSM, 3G UMTS, 2.4GHz WLAN, LTE & WiMAX etc. enabling simultaneous mobility for employees, consumers and emergency services whilst providing in-building service providers and DAS installers with a convenient 'one size fits all' solution. The aesthetically pleasing form ensures that the antenna blends into the ceiling furniture. With a highly efficient design the antenna delivers wireless coverage in the most complex of locations and structures, including multi-building campus sites, high-rise offices or large complexes such as airports.
"The rapid evolution of wireless technologies is a complex battle ground for both businesses and operators alike." stated Christopher Jesman, Managing Director. "There is a constant drive for integrated solutions that can cover all the bases, with the flexibility to enable system upgrades without complete infrastructure change. With the CMWB-038-6, Panorama has an in-building solution that can facilitate all of these demands."
For more information on the CMWB-038-6, call Panorama Antennas or visit http://www.panorama-antennas.com/inbuilding
About Panorama Antennas Ltd:
Panorama Antennas, a family business now in its 3rd generation, is a leading design and manufacturer of antennas for radio communications. Established in London in 1947, Panorama started life as a company manufacturing consumer products. By 1952, buoyed by huge demand for TV's in the UK, Panorama had moved into the manufacturing of components for televisions including antennas. Today, Panorama is a major producer of antennas for telecommunications and electronics companies around the world employs over 50 persons and has 8 overseas sales offices.
Contact:
Mark Jesman, head of marketing
Panorama Antennas Ltd
+44 (0)20 8877 4444
http://www.panorama-antennas.com
###