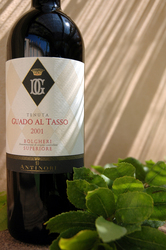 Experts are calling it the best vintage ever
Florence (PRWEB) February 16, 2010
Experts are calling it the best vintage ever. Guado al Tasso 2007 is a Superstar wine from this world famous Bolgheri estate. Bolgheri is not only wine, it's a Lifestyle, an excellence, an achievement, a pleasure.
A few lucky individuals will experience a weekend in the Bolgheri area during the official release of this vintage.

Enjoy a weekend meeting the Winemaker of one of the oldest wine producing families in the world, the Antinori family, that continues the tradition started in 1385 in Tuscany
VIP visit to the Antinori's Guado al Tasso estate which is normally closed to the pubic
Spend the rest of this weekend of fine food and wine with meals prepared by a Three-Star Michelin rated Chef
Learn about the Bolgheri area that is becoming one of the favourite hide-outs for those in-the-know.
Relax at the luxurious Tombolo Talasso Resort and rejuvenate your energy before dining on the coast watching the sunset over a glass of your favourite wine or stay at a nearby luxury private castle or villa
The event will be tailored for an intimate group of a maximum of eight people so that the participants may fully appreciate this unique experience. Italy's Finest (http://www.italysfinest.com) will be happy to accommodate any personalized requests from guests wishing to live and enjoy this occasion to the full.
###