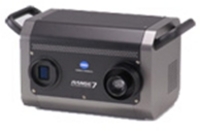 "It's important for us to use laser scanning technologies that are best-suited for precision products."
Burnsville, MN (PRWEB) February 12, 2010
The QC Group, Inc. of Burnsville, MN has added another 3D scanning technology by taking delivery of a Konica Minolta Range 7. This is the 6th laser scanning services technology that QC employees - for parts from microscopic to very large in size.
QC's 3D scanning service has always been focused on supporting precision product design and manufacturing. This new addition supports medium to large objects with scanning accuracy of +/-.0015". It also allows for many items to be scanned without preparing the part surface with primer or developing powder. QC's latest capability will improve the quality of scanning vintage parts and legacy tooling as well as validating current production components.
"It's important for us to use laser scanning technologies that are best-suited for precision products," reports David DeVowe, General Manager. " The Konica Minolta will be an excellent addition to QC's 3D repertoire."
The QC Group, Inc. is not an equipment re-saler, but employs the latest technologies to provide precision 3D scanning services, CAD modeling, reverse engineering and dimensional inspection for clients throughout the United States and Canada.
###