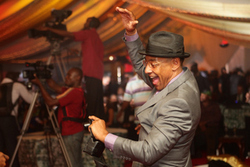 Daryl Hannah – "I read a report that said in 2003 that Nigerian People were named one of the happiest people on the planet, when you come here you can feel that – the sort of joy of life. "
(PRWEB) February 11, 2010
Giancarlo Esposito travels along with Daryl Hannah, to the ION FILM FESTIVAL in Port Harcourt, Delta, Nigeria . ESPOSITO, will be holding an exclusive Q and A session and Actors' Workshop - THE ROAD TO HOLLYWOOD in London Spring 2010 and is currently available for interviews.
Giancarlo Esposito actor extraordinaire, recently completed filming "Rabbit Hole" with Nicole Kidman and Aaron Eckhart; he is also filming the 3rd TV Drama Series " Breaking Bad". The distinguished actor of note has featured in numerous movies including "Derailed" with Clive Owen, "Twilight" (1998) with the late Paul Newman and Susan Sarandon, also classic Spike Lee movies – "School dayz"; "Do the right thing"; "Mo' Better Blues" and "Malcolm X". On Television he has appeared in NYPD Blue, Homicide – Life on the Street, The Practice, Ghost Whisperer, Law & Order and CSI Miami amongst several others.
In December 2009 he was an honorary guest in Nigeria, where he attended and hosted an exceptional Actor's Workshop at The Ion Film International gala and festival which began 9th December going through to the 12th of December 2009. For Esposito the opportunity to visit Africa and share his knowledge with aspiring thespians was a truly fulfilling experience. He said, " I started in the acting business at age 8, so I feel it`s my experience and social skills for example, how to be charismatic, how not to lose your temper - that have helped me the most to succeed. But I did develop a plan: I wanted to work with good people who had a passion for what they did. "
The original decision to bring the event to Port Harcourt, Nigeria was the brainchild of Caterina Bortolussi and Soledad Grognett, two enterprising young women from Italy and Argentina, who fell in love with the country four years ago while visiting on business. As the creative director of the communications outfit Omcomm; Bortolussi is extremely passionate about changing in bred media misperceptions about Nigeria, and she found a willing accomplice in Port Harcourt's progressive governor, His Excellency Chibuike Rotimi Ameachi. Bortolussi says. "We wanted to show people that Port Harcourt, Nigeria is not all they've been reading about, it's not just a place of conflict. So when we were discussing this with the Governor he said, 'Why don't we use the film festival to celebrate peace through art?' At that point, the ION film festival was looking for a new location, so it all just came together."
Apart from Esposito other industry talent in attendance included actress Daryl Hannah, Parminder Vir OBE , Pras of the legendary Fugees, Nigeria next icon to be Nneka, Adnan Siddiqui Pakistani Super Star, Genevive Nnaji (main Nollywood Actress that also participated to the Oprah Winfrey Show), Stephanie Okereke, Kunle Afolayan, Ruth Nirere Shanel, Masumej Makhija, Agbani Darego (First African Miss World) and Catherine Ruelle.
The goals of IONIFF are to "Unite and bring peace for Film Makers & Film Lovers" which in turn has helped to improve the economics of the Rivers State, as well as benefit the community by contributing to film investment and education and to also collaborate with other artists and arts organizations.
The jury and audience award-winners of the 2009 ION International Film Festival were announced at the Festival's closing Awards Ceremony hosted by the Rivers State Governor in Port Harcourt.
For a list of the winners please go to: http://www.ionfilmfest.com
It was truly a remarkable year for IONIFF in ways that were not fully predicted. The Festival opened with great enthusiasm and excitement together with genuine community support for such a momentous event in global Cinema, and in between showcased some of the best films and held some of the best seminars ever seen. People may ask how independent film has evolved in Nollywood , the answer is, quite simply, it's better.
More than 80 films from around the world were screened, 30 of which were Nigerian. The festival featured music, events and workshops, including the acting workshop & session with world renowned American actor-director Esposito, who premiered his film "Gospel Hill", at the Festival.
Other notable quotes from attendees included :
>Daryl Hannah – "I read a report that said in 2003 that Nigerian People were named one of the happiest people on the planet, when you come here you can feel that – the sort of joy of life. "
>Pras Michel - rapper -the Fugees, actor and producer "I had the honor to be part of ion film festival which made me feel like the prodigal son returning home. Being at Port Harcourt in the Delta with Nigeria's next icon to be Nneka on stage in front of its delegates was truly inspiring..... this is just the beginning, the world will soon know "
> Ebele Okoye - Finalist and Film maker (Nigeria/Germany): "The festival was surreal , sort of "groovy" that made me feel like in a
trance...or a DREAM.....for the person to want to wake up or not...It was so good."
> Esther Figueroa - Finalist and Film maker (Jamaica) " I met so many lovely people and saw some really inspiring films, it was a once in a life time experience and I'm very grateful."
> Kevin Cassidy - Journalist from the Hollywood Reporter - " I had the time of my life, honestly. It was such a wonderful experience."
*** Giancarlo Esposito, will be holding an exclusive Q and A session and Actors' Workshop - "The Road To Hollywood" in London Spring 2010 and is currently available for interviews***
For further information, interview requests and talent biographies please contact:
emc3– Baba Epega or Jayjay Epega

###