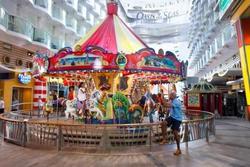 It's more about value than price.
Eden Prairie, MN (PRWEB) February 15, 2010
What's the best thing to hit the high seas in the past year, according to some of North America's top cruise experts? Turns out, it may also be the biggest. The sheer size of Royal Caribbean's Oasis of the Seas cruise ship was named the most exciting cruise ship innovation from the past year, according to the fifth Cruise Holidays Cruise Trends Survey, The Consumer Guide to Cruising. 135 Cruise Holidays business owners and frontline agents in the United States and Canada were polled on the latest cruise trends and key factors that drive their clients' decisions.
But Oasis of the Seas' sheer size isn't the only thing exciting Cruise Holidays experts. The number two and three cruise ship innovations were that same ship's AquaTheater – a water-themed amphitheater complete with high-diving shows – and its Central Park open-air "neighborhood," respectively. Rounding out the top five innovations were features both found on Celebrity Cruises' Solstice and Equinox ships: the Lawn Club, a country club-like area with real green grass, and the Hot Glass ShowSM, an outdoor glass-blowing studio. The Cruise Holidays experts chose from a list of 13 new cruise ship innovations in 2009, which can be seen at http://www.cruiseholidays.com.
What's Driving Consumers' Decisions?
The most important factors in determining a client's vacation are pricing, itinerary and cruise line. But while 2009 saw pricing at levels not seen in 20 years, that may be changing. According to Cruise Holidays, due to a strong surge in demand those cruise prices may be on the way back up.
"It's more about value than price," said Mark Schiffner, vice president of Cruise Holidays. "With so many new ships and so many new itineraries, and when you compare prices to what you might be paying for with a hotel, food and transportation – especially in Europe – you really can't afford not to take a cruise in the upcoming year," said Schiffner.
Cruising Cost Trends:
According to the Cruise Holidays 2010 Cruise Trends Survey, across the board, cruise pricing is down when compared to the past three years. Most notably, cruise prices to the Mediterranean are down $28 per day, per person, for a 12-day cruise, leading to $336 in savings per person compared to 2009. Prices for 7-day cruises to Alaska and the Caribbean are down $25 and $24 per person, per day.*
Destination Trends:
In 2010, Caribbean cruises remain the runaway favorite. More than half the cruises already booked for 2010 will by plying the warm Caribbean waters. Alaska and The Bahamas – considered a separate destination than the Caribbean – round out the top three. Hawaii slipped in popularity, being passed by the Panama Canal and Bermuda. The full list of top destinations can be seen at http://www.cruiseholidays.com. Europe and Mediterranean cruising were cited as cruise destinations with the biggest increase in interest over the past year, specifically Rome and Barcelona.
Booking Trends:
The economy may be driving consumers to wait as long as possible to book cruises. The average "booking window," or time between booking and the actual sail date has shrunk compared to past years, with a notable influx of people booking within three months of the sail date.
Cruising as a Group:
The most popular type of cruise group – according to The Consumer Guide to Cruising – is a friends or family group. That's followed by senior groups, church or faith-based groups, wine lovers and dancing groups.
Passenger Age Trends:
Cruise Holidays experts were also asked to examine the mindset of their cruise clients under the age of 40. These younger cruisers cite the price point or value of cruising as the number one reason they choose a cruise vacation. That is followed by the chance to see new destinations and onboard activities, such as shows, casinos, pools and lounge areas. "With the under 40 crowd, it's more than just the economy at play. Overall, they are more price-sensitive as they try to balance the cost pressures of budding careers, weddings, kids, and new homes, yet they still want to get away. Especially for them, the value of cruising can't be beat," said Schiffner.
Cruise Expert Trends:
What do real cruise experts do when they board a ship? Like most other cruisers, most Cruise Holidays experts find their stateroom upon boarding. That's followed by exploring the ship or wandering around, getting something to eat, and going on deck to see the view. Others make reservations at the specialty restaurants or spa the first chance they get, and still others who aren't ready to unplug go to the computer lounge and check their e-mails until their baggage arrives.
For more information on 2010 Cruise Trends see the full Consumer Guide to Cruising at http://www.cruiseholidays.com.
*See full 2010 Cruise Trends report at http://www.cruiseholidays.com for more details.
The Cruise Holidays brand currently includes more than 200 storefront and home-based franchisees in the United States and Canada. Founded in 1984, Cruise Holidays is part of the Travel Leaders Leisure Group division of Travel Leaders Group. With approximately 1,500 travel agency locations in the United States and Canada, Travel Leaders Group serves millions of individual leisure travelers, as well as select corporate clients and destinations.
# # #