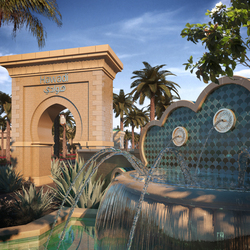 Emaar was looking for a company that intimately understands Southern California master planned community design
Laguna Niguel, CA (PRWEB) February 15, 2010
Bringing a master planned community to life before turning the first shovel of dirt is no small undertaking. And when that community covers 9 million square meters, with 22,000 homes housing 60,000 people, for a project located over 8,000 miles away, the task might seem monumental.
That's what Focus 360 faced when they won the bid to create a virtual reality experience for Hawadi in King Abdullah's Economic City being built by Emaar, located just outside Jeddah, in Saudi Arabia. The architectural 3D animation video recently won The National Sales and Marketing Council's award for Best Virtual Reality Experience. "We were the natural choice for this large and unique architectural visualization project," said Brent Chase, Co-Founder of Focus 360. "Emaar was looking for a company that not only had the technical resources and creativity to pull it off, but just as important to them was a group that intimately understands the lifestyle and design nuances found throughout Southern California master planned communities."
Hawadi is designed to be an internationally appealing, self-contained community for professionals, engineers, doctors, teachers, and specialists in all fields, along with their families, who will work in the City or in neighboring areas. Hawadi's environment mirrors Southern California communities by promoting a healthy lifestyle, featuring uninterrupted walking and cycling paths connecting residential areas with religious, recreation, and retail centers distributed throughout the community. The design elegantly merges Arabic designs with Italian architecture, so prevalent in So Cal communities.
It is well known that Southern California's master planned communities provide a highly desirable model for contemporary living, and many countries throughout the world, especially in Asia, the Mideast and Eastern Europe have been seeking to successfully replicate this lifestyle for their growing middle and upper classes.
"Focus 360 has been at the epicenter of Southern California master planned community design for many years, having worked with most of the major SoCal builders and developers and therefore was well prepared to help Emaar bring their vision to life," Chase said.
Creating a virtual reality experience, especially during the conceptual stages of a development project, is both art and science. It involves translating a developer's designs, concepts and branding desires into storyboards, scripts and soundtracks, and then merging them with advanced computer graphics and post production. The result is architectural visualization in the form of video that communicates on an extremely compelling level.
About Focus 360
Using a variety of media and design tools to visualize what has not yet been built, Focus 360's team of artists, architects, animators and programmers create photorealistic illustrations, architectural renderings and 3D animations from building plans for residential, commercial and mixed use developments. The combined experience and talent has catapulted Focus 360 into the top tier of architectural visualization companies worldwide. Focus 360's international client list reads like a "who's who" in the real estate industry, including: TDIC, Renaissance, Starwood Capital, Ritz Carlton, Brookfield, Lennar, Rancho Mission Viejo and McCarthy Construction. Visit the Focus 360 architectural visualization blog for insightful articles about projects and industry trends.
Contact:
Steve Ormonde
SteveO(at)focus360(dot)com
Focus 360
27721 La Paz
Laguna Niguel, CA 92677
800-490-1621
http://www.focus360.com
# # #