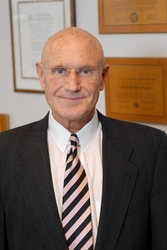 PHMI's approach is to work with local and regional leaders who are committed to driving innovation in health care and medical education in their country.
Boston, MA (PRWEB) February 16, 2010
Partners Harvard Medical International (PHMI) has signed agreements with two Saudi Arabian institutions that are establishing new medical schools.
The Dr. Soliman Fakeeh Hospital in Jeddah and the Al-Imam Muhammad bin Saud Islamic University in Riyadh have both engaged PHMI to assist with the development of medical curricula and infrastructure for new institutions.
Dr. Andrew A. Jeon, PHMI Chief Executive Officer, said these new projects exemplify the desire in Saudi Arabia to lead the way in advancing medical education in the Middle East.
"The Kingdom of Saudi Arabia has made a major commitment to expanding and strengthening higher education, and in particular has emphasized the need to train the next generation of Saudi health care professionals according to global standards," said Jeon. "Developing new world-class hospitals to meet growing demand is an important piece of the KSA strategy, but the Saudi leadership are acutely aware that ensuring the quality of health care delivery in a sustainable fashion depends on nurturing a homegrown workforce of physicians, nurses, and allied health professionals."
To attract the most talented Saudi students to the health professions, schools in Saudi Arabia have demonstrated a commitment to implementing innovative educational models emphasizing more practical, student-centered learning, and relying less on didactic teaching, said Jeon.
In January PHMI's executive leadership team traveled to Saudi Arabia for a series of meetings with some of the country's leading health care and education institutions. The purpose of the visit, said Jeon, was to learn firsthand about the wide range of transformative projects being undertaken across the country and build upon PHMI's existing relationships in the Kingdom.
"PHMI's approach is to work with local and regional leaders who are committed to driving innovation in their environment. We are gratified to have the opportunity to work with these institutions as they become the standard-bearers for Saudi health care and education," said Jeon.
Since 2007 PHMI has been collaborating with Alfaisal University, a new university established in Riyadh under the auspices of the King Faisal Foundation. This project has focused on the planning and development of the Alfaisal University College of Medicine, which opened in 2008.
About Partners Harvard Medical International
Partners Harvard Medical International is an academic not-for-profit professional services organization. Founded in 1994 by Harvard University, PHMI is a subsidiary organization of Partners HealthCare System. The mission of PHMI is to transform health care globally by building strategic collaborations with regional leaders committed to excellence and innovation in the provision of health care and workforce development.
# # #