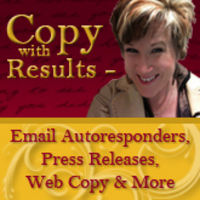 With social media, blogging, and other online resources a targeted plan that reaches an ideal client base is easier than ever. This is a whole new world in marketing online.
Pierceton, IN (PRWEB) February 13, 2010
Internationally sought after Online Marketer and Copywriting firm Copy With Results, LLC expanded their business operation with new marketing packages that are geared for businesses needing more Social Media Interaction.
It's no secret that Twitter and Facebook are now being widely used by small and large businesses alike. But a consistent Social Media marketing plan is what brings in more repeat clients and builds better rapport in an online environment.
Copy With Results, LLC located in Indiana has been serving clients and successfully operating businesses online for the last 14 years. CEO Sandi Krakowski is a working mom who had a dream of being able to stay at home and make a substantial profit. Through business success and loss she's now known as the "Go To" Internet Cop when it comes to finding out what works and what doesn't online.
Nina Hershberger stated of her recent work done with Sandi, ""Wow Sandi! You are FAR more than just a copywriter but a Marketer, Go To Person and everything in between!" Nina Hershberger, MegaBucksMarketing.com, Featured by Bill Glazer
The internet can be a frustrating thing for a company seeking to expand without emptying their wallets. With experience in copywriting, marketing, online branding, internet sales, social media marketing and more Copy With Results, LLC brings to the forefront solutions for today's business owner.
Google constantly changes, Facebook is now the most trafficked site on the entire internet only being outpaced by Google. It can be a jungle online if you aren't sure what to do first and what to implement for bigger returns.
Gone are the days when PPC advertising (pay per click) is king. Many online businesses are finding that Organic Traffic created with a company website and social media far outpaces expenses previously spent on PPC campaigns.
Krakowski states, "We did a recent Keyword Research for a client and found their competitors were spending over $67,000 per month on PPC in 2009 and were now spending only $1,800 per month on PPC. Their enormous increase in sales and traffic was coming through social media. That directed a plan for our client which implemented social media, blogging and other online resources all of which had no financial outlay, just the time involved maintaining it. This is a whole new world in marketing online."
Recently featured in the fastest growing online community for Moms in Business, WorkingMomsOnly.com by CEO Mary Ellen Tribby, Copy With Results is featured as a top resource for business moms who need top service.
To receive a no obligation business consultation regarding your website and marketing strategies visit http://www.CopyWithResults.com for cutting edge tools for increased profits.
###