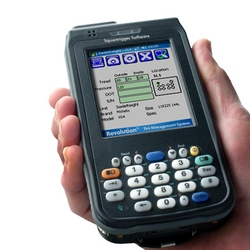 I've been in the industry for 20 years, and I've never seen anything like it. You blow everything else out of the water.
Silverdale, WA (PRWEB) February 12, 2010
Commercial fleets are no strangers to high operating costs. The largest of these include fuel, tires, and payroll. Both payroll and fuel are monitored very closely with many products available to simplify the job. Until now effectively tracking and managing tires has been problematic.
Revolution is an innovative tire tracking system developed by Squarerigger Software. This new tire management system utilizes wireless hand held PC's and electronic data collection methods to completely eliminate paper from the tire tracking process.
Wireless devices contribute to Revolution's efficiency by speeding the process of gathering tire data while maintaining a higher level of accuracy than ever before. When performing inspections, data is entered into Revolution's Inspector. This data is instantly transferred to the database on the server. Bar codes and tire branding are supported. No manual data entry required. No docking, linking or syncing.
In addition to performing tire inspections, Revolution also maintains detailed records. It reports such things as tire inventory, miles per 32nd" and cost per 32nd". All this is accomplished through a drag and drop, graphical interface that allows even new users to understand and effectively utilize the Revolution tire tracking system with very little training.
Squarerigger is based in the Seattle region of the Pacific Northwest. It has been delivering fleet maintenance and fleet management solutions for most of its 28 years. Revolution is the culmination of a dedicated effort to put a streamlined, effective and easy-to-use tire tracking system on the desks of the leading companies in the industry.
For more information visit http://www.RevolutionTMS.com
###