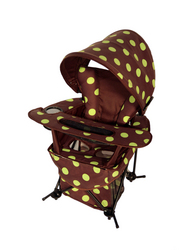 There is no other chair on the market as multi-functional or designed for years of use for your child.
Atlanta, GA (PRWEB) February 16, 2010
The Kristi G Company®, known for making life hassle-free for moms with its handy baby wipe-dispensing line of diaper and handbags, has announced the launch of its newest convenient creation, the Go & Grow Chair™. Available online and at select retail stores, the Go & Grow Chair is a multifunctional portable indoor/outdoor seat that accommodates children from ages 3 months through 8 years(up to 75 lbs).
This portable, transformable camping-style chair allows children to sit or stand and features essential attributes such as a 3-point harness for safety, a removable snack tray and a detachable sun bonnet. The chair also easily folds up and is conveniently stored away in its own stylish sling-pack bag for ultimate portability.
"As a result of my personal need to make life a bit simpler, I designed the Go & Grow Chair to help with those trips to the soccer field, the beach, vacation, grandma's house or just as a parking spot for outside play," says Kristi Gorinas, founder of The Kristi G Company and mother of five. "The chair is also a great investment since its transforms to meet the needs of the growing child, providing years of use," the mompreneur adds.
The Go & Grow Chair features:

Removable 3-point harness for safe and comfortable sitting
Seat cover that folds into front skirt to expose leg holes
Leg holes for baby to stand and stretch
Safety bucket that keeps feet clean, bug-free & snaps under seat when not in use
Raised, pillow-like cushions on seat back to support infant's head and add comfort
Sippy cup holder
Closed sides for extra safety
Removable tray for snacks and toys
Link loop holes to attach pacifier and toys
Detachable UV sun bonnet
Angled legs for stability and safety
Indoor/outdoor fabric resistant to fading, stains and mold
The Go & Grow Chair is available on the KristiG website and at select retailers at a price of $69.99.
The Kristi G Company originally launched with a line of stylish and functional diaper bags, clutches and handbags featuring their patent-pending E-Z wipe system. Heralded by celebrity moms such as Brooke Burke, Kristi G diaper bags feature a baby wipe dispenser on the back side of each bag allowing for convenient one-handed wipe access.
About Kristi G
The Kristi G Company, founded by Kristi Gorinas, is based in Atlanta, Georgia. Known for its line of Diaper Bags featuring the E-Z Wipe System, information on The Kristi G Company and its products can be found online at http://www.kristig.com.
###