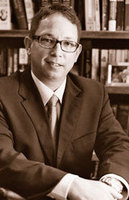 As President Obama referred to in his State of the Union Address, the growth potential for investment in Panama and Colombia is second-to-none, but only for those investors with real-world intelligence from the inside.
Dedham, MA (PRWEB) February 15, 2010
Boston, Massachusetts-based boutique investment bank Briggs Capital today announced the appointment of Jose Goldner to the position of Partner. Mr. Goldner will open a Briggs Capital office in Panama to oversee the bank's investment activities throughout Central America and select regions of South America.
Since the mid-1990s, Mr. Goldner has enjoyed success as an entrepreneur and business-owner in the telecom, internet, and real estate sectors, and is currently the custodian of a hedge fund which recently relocated to Panama.
Briggs Capital will leverage its network of Private Equity groups and high net-worth individuals to provide new sources of equity to sellers of businesses and to business-owners seeking growth capital.
Rod Robertson, Managing Partner, Briggs Capital, stated, "We see tremendous opportunities for U.S.-based Private Equity funds with an interest in Latin American markets. The future of growing market share in U.S. businesses lies in understanding how to grow market share in Latin American markets."
"That's what we are here to do," continued Robertson, "to strategically match buyers and sellers. We literally have over 200 funds, each with more than $200M seeking deployment."
Now is the perfect time for Briggs to extend its reach to Latin America, explained Goldner. "We continue to see explosive growth throughout the region. In his State of the Union address, President Obama talked about strengthening trade relations with Panama and Colombia specifically. This is a powerful trend and now the world knows it."
Goldner believes Colombia in particular is overdue for international investment. "For many years, Colombia was 'off the table' for investors around the world. But with current President Alvaro Uribe's continued stabilization of the country, Colombia will see equity and deal flow skyrocket in 2010 and beyond."
"Now Briggs has a base in Latin America and can navigate these waters for our clients, identifying safe harbors and capitalizing quickly when the right opportunity appears," said Goldner. "The growth potential here is second-to-none, but only for those investors with real-world intelligence from the inside."
About Briggs Capital
Headquartered in Boston, Massachusetts with satellite offices in the New York Metro area and Latin America, Briggs Capital, LLC is an investment bank servicing low- to mid-market companies. With more than $500 million in equity disbursement capabilities, Briggs offers funding opportunities and lucrative exit strategies for companies at virtually every stage throughout their life cycle, across a broad range of industry sectors. Its real estate division, Briggs Capital Real Estate, LLC, is a full-service real estate investment and development firm dedicated to taking advantage of ownership opportunities in the United States and Latin America, operating in all sectors of commercial and industrial real estate and land development in the U.S. and abroad.
###