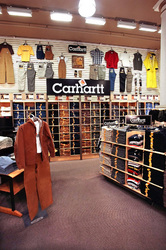 We don't do high fashion. Don't do really expensive.
New York, NY (PRWEB) February 17, 2010
Dave's New York, a staple work wear clothing store, is launching an expanded product line to bring affordable fashion to those who need it most.
New brands for the store like Canada Goose and The North Face are on the horizon, along side traditional Red Wing and Schott brands. They've built an internal retail culture around the global working citizen, with customers coming from as far as Europe to take advantage of their unique service. Now, more people than ever are finding themselves in that working class position, and are looking to Dave's New York for functional work wear with trendy styles as well.
Bob Levy, one of the owners of Dave's New York, was recently interviewed for the style section of the New York Times. To which he promptly stated, "We don't do high fashion. Don't do really expensive." As reporter Jon Caramanica explained in his article, "Still, not everything here screams to be used roughly; plenty is intended for use off the clock."
They are still known for selling time-honored styles from Levi's, Carhartt, and Wrangler, which may not come to mind when you think "fashion forward," but it's all about how you wear it. Their store is at the top of the list for many customers looking for durable work wear , as well as authentic vintage styles.
Dave's New York, along with other retailers across the nation, is keeping the customer in mind while watching their own budget get tighter and tighter. The shopping trend for the rest of New York isn't immune, and is striving to bring customers into stores as well. Higher end stores are taking part in Fashion's Night Out, an annual event implemented to stimulate the shopping economy.
While Dave's New York may not be on the cover of Vogue, their selection is crossing over from just going to work to also going out for the weekend--encouraging niche shoppers to try on what their store is offering. Their contemporary style has flown under the radar to some, but has been a long time favorite to many.
About Dave's New York
Dave's New York is located at 581 Avenue of the Americas, in the upscale Chelsea area. In business for 45 years, they offer personalized service with a multi-lingual staff. English, French, and Spanish are spoken to accommodate their wide customer range. Dave's New York carries an astounding selection of high performance clothing, quality jeans, work wear and boots, military-style clothing, shoes, outerwear, and work apparel work apparel for men and women. Stop by their store or shop online any time at DavesNewYork.com. All press inquiries should be sent to info(at)davesnewyork(dot)com.
# # #