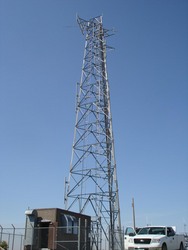 Milwaukie, OR (Vocus) February 12, 2010
Day Wireless Systems, a West Coast tower company, recently acquired thirty carrier-grade towers through two purchases and a site management agreement. Day Wireless Systems now operates nearly 150 sites in seven Western states with a footprint of towers in Washington, Oregon, California, Idaho, Nevada, Montana, and Utah. All of the locations are ready for tower lease, and are expected to attract a broad range of tenants from microwave to Wi-Fi to cellular. For a map of all Day Wireless tower sites, visit http://www.daywireless.com/towers.htm
Day also expects to close agreements for management of nine additional communications facilities in Oregon during the first quarter of 2010. "Government agencies have become increasingly interested in site management services. It relieves them of numerous burdens involved in operating a successful communications site. These agencies see the value of new revenue generated by our ability to collocate new tenants in their facilities," said Dean Ballew, Sites Manager for Day Wireless Systems.
Day Wireless Systems is composed of 26 locations throughout the West and has 175 in technical staff and over 300 employees. Day Wireless is a full service communications company with in-house tower services, installation and maintenance, system design, rental, and sales teams. Since 1969, Day Wireless has been providing professional wireless services for demanding commercial, government, and mission critical public safety systems, and is the largest Motorola dealer in combined business in the USA.
For more information, please visit http://www.daywireless.com, or call 800-554-0402.
###