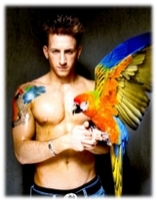 "It's great fun to be bringing a contemporary family show with a hip-hop variety beat to the Bronx. We live here and the community is terrifically supportive of its circus and street artists", said Kip Anthony Jones, of the King Charles Troupe.
New York, NY (PRWEB) February 12, 2010
For the first-time-ever, New Yorkers will have the opportunity to experience some of the country's greatest young circus artists and hip-hop talent in one spectacular variety show as The Blacktop Circus: Where The Big Top Meets The City Streets hits the stage at the legendary and newly revitalized Paradise Theater in the Bronx on March 12, 2010. Show information is available at http://www.blacktopcircus.net.
Taking place from March 12th – March 21st, the show features an eclectic array of acclaimed young performers, assembled from the blacktop -- the asphalt pavements of city streets and playgrounds. The show is the only hip-hop variety show to provide a professional venue featuring these exceptional talents all under one roof.
The performances appeal to, and inspire people of all ages and demographics, while bridging cultural and racial boundaries within the arts. Audiences will recognize many of their favorite acts from appearances on television shows including America's Got Talent, America's Best Dance Crew and Showtime at the Apollo as well as familiar live touring shows.
The BlackTop Circus features exciting performances from aerialists, acrobats, dancers, illusionists and athletes bringing their own unique styles and techniques to the stage. Each young performer brings something contemporary, and never-before-seen, to these high-energy, awe-inspiring and gravity defying performances.
With over 26 performers slated to appear, audiences will be blown away by:

Hip-hop illusionist/Elliot Zimet -- renowned for his NY street-smart modern spin on magic, Elliot's vision of using illusions, birds, dancers, special effects, lighting, and crowd-moving beats has captivated audiences everywhere with his unforgettable presence.
New York City's renowned King Charles Unicycle Troupe -- have been dazzling audiences for over 40 years with their high-energy game of basketball on unicycles developed and created right here in the Bronx.
The Kenya Safari Acrobats -- a fast-paced troupe of eight highly trained athletes take the stage for gravity defying insane antics.
Aerialist Extraordinaire/Susan Voyticky – poetry- in-motion describes the elegance and craft of her aerial dance - a visually stunning array of physical strength, style and technique combine in a beautiful display of airs above the ground. Professionally trained in London at The Circus Space's BA Theater. Susan Voyticky began training at an early and is proficient on single hoop and swing trapeze and aerial silks
Contortionist/Ricardo Sosa -- bending his body parts past human limits, he has the uncanny ability to charm and in an unconventional body ballet, the physical strength, flexibility and grace to amaze.
Dance Performer/Kenichi Ebina – his incredible HipHop, Poppin', Lockin', Mime, House, Jazz, Contemporary and Ethnic dance styles have made him the only two-time grand champion in Apollo theater history.
AND SO MUCH MORE!
To purchase tickets log onto http://www.paradisetheaterevents.com or call ticketmaster @ 212-307-7171 or The Paradise Theater box office @ 212-220-1015. Tickets prices from $16 for kids, $22 for adults, $20 for mezzanine and $30 for VIP seating.
For more information about The Blacktop Circus, log onto http://www.blacktopcircus.net or Follow us on Twitter@BlackTopCircus and on Facebook at The Black Top Circus.
For press information or to arrange interviews contact: Jennie Rosenberg, Jennie(at)bpmediarelations(dot)com
###