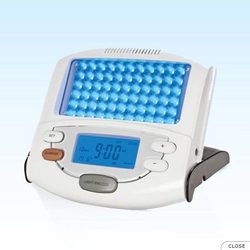 "We believe a natural wake-up is very important in daily life," Joshua Chen, Nature Bright CEO told HOMEWORLD BUSINESS , in a recent interview. "Traditional alarms can cause mood or sleep disorders. It's very important in the morning to wake up to light."
Irvine, CA (PRWEB) February 16, 2010
Nature Bright, a supplier of light therapy products is looking to bring its technology to a wider consumer audience this spring with plans to target mass U.S. retail distribution.
The company, which has utilized primarily online channels for its U.S. distribution efforts thus far— several of its items are currently available on Amazon.com— has introduced a new Dia Light and Dawn Therapy Machine that employs the company's proprietary Sky Effect Technology. The new product functions as both an alarm clock and light therapy machine, waking consumers to simulated morning sunlight.
While a number of companies currently offer natural-light simulating therapy and wakeup products, Nature Bright believes its Sky Effect technology makes it unique.
"It's a light that has a very high proportion of blue that has a very high color temperature," Chen explained. "This color temperature is equivalent to the blue sky at the North Pole." He noted that simulating the effects of a sunny blue sky can have a positive effect on mood and medical professionals have increasingly used various types of light to address myriad consumer health issues.
According to the Mayo Clinic light therapy is a method of treating seasonal affective disorder, a type of depression that occurs at the same time every year, typically starting in the fall and carrying through the winter months. The Clinic also indicates that light therapy can be used to treat non-seasonal depression, obsessive-compulsive disorder, premenstrual dysphoric disorder, postpartum depression, jet lag, certain sleep disorders and shiftwork problems.
According to Nature Bright, its Sky Effect Technology expands upon recent research in this area, specifically the discovery of a third type of receptor in the human eye. This retinal receptor responds particularly to the length of blue light waves. This receptor, according to Nature Bright, picks up blue light and sends signals to the hypothalamus; the area of the brain where sleep, hormonal and emotive functions are regulated. In turn, it stimulates an area of cells that are the physical location of people's "body clock."
"This technology serves to increase the production of the hormone melatonin," Chen explained."It makes people happier, more alert. The benefits of Sky Effect technology serve to make you feel calmer, more concentrated; it reduces working fatigue and also improves mood."
He noted that the technology also serves to reduce the intensity of light consumers are exposed to as well as the duration of treatments. Typically, Chen explained, conventional white light therapy requires 10,000 Lux but with Sky Effect Technology that intensity can be reduced to 4,000 Lux.
"At this level, it is easier on the eyes and also cuts the light therapy session in half to only 15 minutes," he said.
The Dia Light and Dawn Therapy unit utilizes a Lithium Ion rechargeable battery and also comes with a universal power adapter. It also features a snooze button and the ability to function just as a light therapy machine. Suggested retail is $129.95.
The other new product the company is looking to bring to volume retail channels this season is the company's Clarity Skin Rejuvenation System. The product delivers red and blue light treatments that are said to help smooth out small age wrinkles, minimize blemishes and give skin a healthier, more vibrant look.
According to the company, the red light heals skin cells while the blue light kills pimple-causing bacteria. To use, consumers simply turn the machine on and sit in front of the light for 15-minute light therapy sessions. The unit, which has a suggested retail of $159, comes with protective goggles and an extra bulb set of three red bulbs and three blue. According to the company, the Clarity therapy system does not generate harsh heat nor produce UV rays.
"This is a product that could be used by dermatologists, where people would pay $100 for a single session, and they often need to commit to 10 sessions," said Chen. "This is safe to use in the home and is much more affordable."
# # #