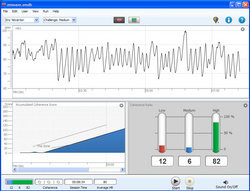 "Our emWave technologies are helping to change lives for the better. They help people reduce the negative effects of stress, allowing them to experience greater health, increased energy, and improved emotional balance and mental clarity."
Boulder Creek, CA (PRWEB) February 12, 2010
HeartMath®, creator of the award-winning emWave® technologies, has just released their emWave® Desktop product. emWave Desktop works on both PC and Mac systems. The emWave technologies are recognized as breakthroughs in personal stress reduction solutions and have become widely popular lifestyle tools for consumers, as well as with thousands of health care providers. HeartMath is respected internationally for their scientifically validated stress solutions and was the first to introduce affordable stress-reduction technologies to help people learn to prevent, manage and reverse the negative effects of stress.
emWave Desktop is based on 18 years of research on the relationship between stress and emotions. Research has shown that the heart is a key component of the emotional system and it not only responds to emotion, the signals generated by its rhythmic activity actually play a major role in determining the quality of our emotional experiences.
Catherine Calarco, Vice President of Sales and Marketing for HeartMath LLC, says, "Our emWave technologies are helping to change lives for the better. They help people reduce the negative effects of stress, allowing them to experience greater health, increased energy, and improved emotional balance and mental clarity."
emWave Desktop (http://www.emwave.com) is a software-with-hardware program designed to help you de-stress and improve your emotional resilience. emWave Desktop collects data from your heart through a pulse sensor that plugs into your computer. The program translates the information from your heart rhythms into user-friendly graphics displayed on your computer monitor. As you apply the stress-reducing Quick Coherence® technique learned from the program's tutorial, you'll see your heart rhythms change in real time.
HeartMath research has demonstrated that different emotional states create different patterns of heart rhythm activity. The various emotions we experience have distinct effects on cognitive and emotional function. When we're stressed and feeling negative emotions, the heart rhythm pattern is erratic and disordered. This inhibits higher cognitive functions, limiting our ability to think clearly, remember, learn, reason and make effective decisions. Conversely, when we learn to consciously generate increased heart rhythm coherence through feeling and sustaining positive emotions, it not only benefits the entire body, but also profoundly affects how we perceive, think, feel and perform.
With emWave Desktop you can store and track your progress over time and review previously recorded sessions. The program includes three colorful, interactive games designed to train you to create a positive emotional shift and learn to transform stress into creative energy. Another feature of emWave Desktop is its Emotion Visualizer® which provides stunning images that emit varying degrees of color and movement as you adjust your emotional state.
"We're all about making people's lives less stressful. In today's times many of our customers have their entire family involved in using the emWave technologies. emWave Desktop gives people the added flexibility of choosing one product that will work for any platform," says Catherine Calarco.
Users of emWave PC and emWave Mac will find that emWave Desktop provides upgrades that offer even more conveniences for the user. Upgraded features include a streamlined user interface that auto-saves every session. You can also replay and review previously recorded sessions and add a title and information to your session, and there are additional features such as a pull-down menu to easily switch between users and the option to mix and match the screens in your view.
emWave Technologies are available through major online resellers, catalogs and the HeartMath website (http://www.heartmathstore.com.) The emWave products are part of the HeartMath System of scientifically validated stress and performance solutions. They provide consumers and health professionals with an innovative approach to stress reduction and unique conveniences for taking charge of stress wherever and whenever you need it.
To learn more about emWave Desktop visit emwave.com. Stay up to date on HeartMath news and events by joining HeartMath on Facebook, Twitter and YouTube.
About HeartMath®:
The HeartMath System (http://www.heartmath.com) was created by Doc Childre. HeartMath LLC is a cutting-edge performance company providing a range of unique services, products and technologies to improve health and well-being, while dramatically reducing stress. HeartMath clinical studies have demonstrated the critical link between emotions, heart function and cognitive performance. HeartMath studies have been published in numerous peer-reviewed journals such as American Journal of Cardiology, Stress Medicine, Preventive Cardiology and Journal of the American College of Cardiology. Their organizational clients include Stanford Business School, Stanford Hospital, Scripps Center for Integrative Medicine and Kaiser Permanente, as well as dozens of school systems and thousands of health professionals around the world. HeartMath's award-winning emWave Technologies include the emWave Personal Stress Reliever and the emWave PC Stress Relief System. The emWave Personal Stress Reliever recently won the Last Gadget Standing People's Choice Award at the 2009 International Consumer Electronics Show, and Today's Caregiver magazine's Caregiver Friendly Award®.
###