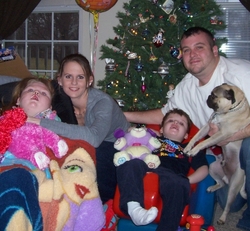 I don't know how they stay strong, but they do, and that has given me strength.
Shepherdsville, KY (PRWEB) February 11, 2010
In late June of 2008, one family's desperate fight against a rare, incurable disease became the subject of national attention when Hailey Goranflo and her mother Miranda were stopped from boarding a flight to China and detained in Vancouver, Canada. Hailey was to receive potentially life-saving treatment by researchers in Beijing, but confusion among airline staff put her chances for treatment in jeopardy. They were forced to return home to Louisville, KY.
National news followed the story as Kentucky Congressman John Yarmuth and United Airlines finally made that trip happen by early July 2008. Although the treatments she received in China had some positive effects, Batten disease with its 100% fatality rate, took 7-year-old Hailey away from her family last month. But that's not where the saga ended.
Just days after losing their daughter, Miranda and her husband Neil turned their attention to their remaining child, 4-year-old Carter. He too has Batten disease. What they decided to do about it has turned into an unintentional hope campaign to everyone who hears about it.
Supporter Mark Gnau said, "I don't know how they stay strong, but they do, and that has given me strength."
"We can't sit around and do nothing, we can't bury another child," Miranda said in a press conference just over a week ago, where they unveiled an ambitious plan to save Carter's life: a social media networking campaign aimed at raising $1 million by February 14th.
The money they raise is planned to help fund a trial study at Cornell University under the direction of Dr. Ronald Crystal, a pioneer in gene replacement therapy. While specific details for the study are still under consideration, the Goranflo's plan is to be ready once those details are in place.
The aggressive Internet campaign they are calling the "Valentines Day Miracle" seeks to drive at least 100,000 people to the family's website, http://www.haileyandcartersdream.com, on or before Valentines Day to give $10. After only only 10 days of campaigning, however, word already has spread across three continents and generated early donations from 22 U.S. states plus Canada, Switzerland, Finland, Australia and the U.K., and has garnered celebrity, political and major media attention.
Carter's uncle, Mike Roberts, who's assisting the family with the campaign, says "People like to help, they don't mind giving. And because it's so simple and the spirit it's being done in is so positive, the response has been overwhelming."
Roberts points to several facts. Over 1,100 people have already given, many of whom express plans to give again on the target date. The family's Facebook group (Hailey and Carters Dream) topped 5,000 on day 9 of the campaign, an average of over 500 people a day. Over $20,000 of "early bird" donations have come through their site and Fifth Third banks where the Goranflos have a trust. Finally, according to Roberts, "the most unexpected part has been the literal flood of letters, e-mails and Facebook group comments telling us how Neil and Miranda have inspired hope, despite everything they just went through."
People have even called them "heroes."
Now, the family's expectations are even higher than when they began. "We would love nothing more than to help other Batten families and fund further studies into prevention and possible cures," Miranda said, "and all it would take is this campaign going viral to make that possible. I think people like the idea of paying it forward."
Included in their aspirations for extra money would be a foundation in Hailey's name to help other Batten families as well as fund more research into gene therapy, which has implications for Parkinson's, Alzheimer's, Cystic Fibrosis, heart disease, MS, ALS, rare/orphan diseases, and AIDS.
Driven by hope and inspiring thousands in the process, Neil says "this could mean that Carter and a lot of others have a fighting chance. His big sister would be proud."
###