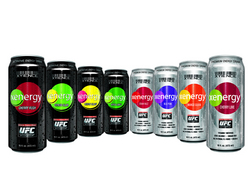 Craig Reeves and his team, from day one, have had a lot of conviction about our brand. Their expertise in the field, along with that kind of enthusiasm, will result in a great deal of success on the retail floor. We're looking forward to a long and successful relationship with Silver Eagle.
Las Vegas (Vocus) February 13, 2010
This week, XYIENCE celebrates two major triumphs. The official energy drink sponsor of the Ultimate Fighting Championship (UFC) announces a significant boost in distribution in Texas, resulting from a new partnership with Silver Eagle Distributors. This Houston-based company is the largest distributor of Anheuser-Busch products in the United States, and has an account roster that is roughly 13,000 strong, including chains such as Valero, Kroger, H.E.B and Timewise Food Stores. As a result, consumers in the greater Houston and San Antonio areas can look forward to finding all flavors of both Xenergy Premium and Xenergy Xtreme in convenience and grocery stores immediately.
XYIENCE kicked off the relationship by hosting a live viewing party for UFC 109 on Saturday, February 6 at Pub Fiction in Houston. More than 125 Silver Eagle guests, including employees and key accounts, were in attendance. It was a special night for XYIENCE. Their sponsored UFC fighter, Matt Serra, pulled off an impressive performance in the octagon, and was victorious in the first round by TKO (technical knock-out) against Frank Trigg. In fact, XYIENCE's UFC affiliation and its brand awareness among brand-loyal mixed martial arts (MMA) fans is one of the main reasons that decision makers at Silver Eagle partnered with XYIENCE.
In an industry where a retailer can spend anywhere from three to six months developing awareness of a new brand among its customers, Silver Eagle's business development manager, Craig Reeves explains that XYIENCE is already a recognizable brand due to the large, regional UFC fan base. "Having the UFC logo on the can and recognition in that sport is a definite added bonus," says Reeves. Even so, the strength of the product was what actually sealed the deal for Reeves. "We were looking for a viable brand in the energy drink category and we think that XYIENCE is the next big player," says Reeves. "XYIENCE has everything you want and nothing that you don't," he adds, explaining that the energy drink category is trending toward low carbohydrate, sugar- and calorie-free drinks. Xenergy has always been sugar- and calorie-free, with only two-grams of carbohydrates per serving as well.
At the XYIENCE headquarters in Las Vegas, the agreement with Silver Eagle is also viewed as a significant milestone. "In addition to the sheer volume of retail level exposure that Silver Eagle offers XYIENCE, they are a highly respected top-notch distributor, and it's an honor for XYIENCE to be included on their line-up of brands," says Reuben Rios, XYIENCE's vice president of U.S. sales. "Craig Reeves and his team, from day one, have had a lot of conviction about our brand. Their expertise in the field, along with that kind of enthusiasm, will result in a great deal of success on the retail floor. We're looking forward to a long and successful relationship with Silver Eagle."
Through televised broadcasts of UFC events, the XYIENCE brand reaches some 100 million-television households in North America. As a part of XYIENCE's UFC sponsorship relationship, its logo receives prime positioning on the mat and bumpers of the octagon. This often results in a fight's critical moments taking place on or next to the XYIENCE and Xenergy logos, and translates into millions of viewer impressions for XYIENCE. Internationally, XYIENCE reaches more than 420 million television households via UFC broadcasts and Pay-Per-View broadcasts.
About Silver Eagle Distributors
Silver Eagle Distributors, L.P. is the nation's largest Anheuser-Busch distributor and one of the largest Grupo Modelo distributors in the country. Silver Eagle employs over 1,200 employees that serve 16 counties in Texas through operations in Houston, San Antonio, Conroe, Cypress and Rosenberg. Silver Eagle also distributes a broad selection of import brands, microbrews and craft beers and several non-alcohol beverages and waters.
About XYIENCE
XYIENCE nutritional products provide clean, sustainable energy necessary for an active lifestyle. Established in Las Vegas in 2004, XYIENCE is one of the fastest-growing brands in its category. All products are held to the most stringent standards of excellence to enable professional and amateur athletes and fitness enthusiasts to reach their goals in training and life.
Xenergy (A combination of Zen and Energy, pronounced "Zen-ergy")
XYIENCE supports the mixed martial arts lifestyle. Its energy drink, Xenergy, and its energy shot, X Shot, are the official energy drink and energy shot of the Ultimate Fighting Championship (UFC). The first energy drink created by a nutrition company, Xenergy has zero calories and is a sugar-free drink fortified with vitamins. All-natural flavors provide a consistent supply of energy, sans the "crash" inherent with most other energy drink brands. Xenergy Premium Energy flavors include Cherry Lime, Cran Razz, Mango Guava and Blu Pom. Xenergy Xtreme Energy flavors include Lemon Blast, Citrus Slam, Cherry Rush and Apple Jak'd. Xenergy is available in retail stores throughout the United States and Canada. Visit http://www.xyience.com for details.
XYIENCE Supplements
XYIENCE supplements provide ultimate nutrition for peak performance. With everything from NOX-V2—for increasing strength and stamina and aiding in post-exercise recovery—to high-quality protein supplements such as the XY-PRO, an advanced protein complex or the XM2 muscle meal, XYIENCE offers products scientifically formulated for specific training needs.
###