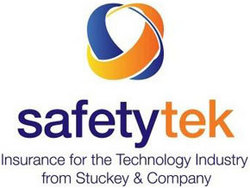 Lake Saint Louis, MO (Vocus) February 12, 2010
Stuckey & Company, the managing general agent of leading insurance programs for the technology industry, has announced a free webinar on Friday, February 19 at 2:30pm CST. The 30-minute webinar is open to all insurance agents who wish to learn more about Stuckey & Company's insurance programs for Technology professionals. It will feature Tracey Hagy-Kelly and Kris Fistick of The Hartford who will discuss the nuts and bolts of Stuckey & Company's Technology programs. This 30-minute session will provide agents with valuable coverage details and the ability to have their questions answered directly by the carrier of Stuckey & Company's Technology programs.
Stuckey & Company has been serving the technology industry since 1996, and it has created several specialized technology insurance programs, providing the perfect blend of coverage for these unique segments of the industry. Programs under Stuckey's TekDivision umbrella include:

SafetyTek – A comprehensive insurance package for software, Internet, and computer consulting companies.
TekManufacturing – Insurance coverage for computer & electronics manufacturers.
TekSchools – Insurance coverage for professional education, trade and vocational schools.
BioTek – Insurance coverage for firms performing clinical trials and contract research for human health care.
TekHD – A multi-media insurance program designed for clients working in multiple media settings.
Stuckey & Company believes that any business involved in the tech industry should be aware of three types of technology insurance:

Technology Professional Liability Insurance coverage from Stuckey & Company protects insured companies from claims alleging negligence in the provision of technology products and services.
Electronic Media Liability Insurance provides coverage for electronic publishing, web casting, or other distribution of electronic content on the Internet. Coverage includes copyright, domain name, trademark, trade name, trade dress, service mark, service name, title and slogan.
Network Operations Security (NOS) Insurance covers network operating systems (NOS) or network operations centers (NOC) that link and support workstations, personal computers, and terminals.
The February 19 Electronic Media Liability webinar is the fourth webinar in Stuckey & Company's Technology Webinar Series. With an overview of all of Stuckey's key TekDivision programs, the webinar is perfect for agents who are relatively new to tech industry, as well as agents who work with tech clients on a regular basis. The webinar is free, and agents can register for the TekDivision webinar any time before 2:30 pm CST on February 19.
Stuckey's Tek Division is focused on small to mid-sized technology accounts and offers low minimum premiums starting at $1,000 for a $1,000,000 limit. New rating factors for individual risk characteristics are also available. Business insurance quotes and a complete list of eligibility are available online.
About Stuckey & Company
Stuckey & Company is a specialty insurance provider based in Lake St. Louis, Missouri. For 20 years, Stuckey has offered commercial, professional and personal lines of insurance. Stuckey & Company's network of 10,000 licensed agents has the knowledge and experience in dealing with specific coverage not typically covered under standard policies. Stuckey specializes in Errors and Omissions insurance for technology companies, architects and engineers, and IT consultants. It is also Managing General Agent of the HarborGuard marine insurance program.
As one of the fastest-growing specialty insurance providers in the U.S., Stuckey & Company offers coverage to over 300 miscellaneous professional liability classes in sectors that include consulting, engineering, accounting and financial services, government services, media, laboratories and education. Coverage limits are available for many risks up to $5 million. It also offers a variety of standard insurance policies through its personal lines and commercial lines. Additional information about insurance plans from Stuckey & Company is available online or by calling 1-800-828-3452. To request information by mail, write to Stuckey & Company, 28 Hawk Ridge Circle, Suite 200, Lake St. Louis, MO 63367.
###