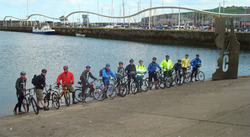 Plumbs is committed to raising money for local charities in the community
(PRWEB) February 16, 2010
Last week 13 brave employees from Plumbs Ltd presented a cheque to Rosemere Cancer Foundation for £6486, which they raised on a 136 mile/ 3 day charity bike ride last year in memory of one of their colleagues. Staff from Lancashire firm Plumbs have raised the money for the Rosemere Cancer Foundation, following a 136 mile bike ride from Whitehaven to Sunderland.
Thirteen staff from the Preston-based loose cover, re-upholstery & curtains specialists, embarked on the three-day ride to raise money in memory of their work colleague Carol Livesey who passed away last year.
The cyclists from Plumbs visited the Rosemere Cancer Foundation last week to present a cheque totalling £6486. The Rosemere Cancer Foundation raises money for cancer research projects, patient welfare projects and additional equipment and training for the cancer centre and the local cancer units throughout Lancashire and South Cumbria.
Chris Plumb, Online Marketing, PR and Business Development Manager at the family run-business and one of the 13 who took part in the bike ride, said: "Plumbs is committed to raising money for local charities in the community. Carol Livesey was a popular member of staff who is sadly missed and although the bike ride was hard going, the team were brilliant and the effort was definitely worth the money raised."
About Plumbs:
Plumbs, now celebrating their 50th year, have around 150 Home Consultants who will visit homes free of charge. The Home Consultants can recommend an appropriate loose covers solution and advise on room colour co-ordination and any other home furnishings such as upholstery, furniture covers, cushion covers and curtains.
With over 350 different upholstery fabric designs and colours to choose from, and a range of materials to suite any piece of furniture.
For further information please contact:
Chris Plumb Plumbs Marketing and PR Contact on - 01772 838430 or email cplumb(at)plumbs(dot)co(dot)uk
Geraldine Vesey, Anoushka Done or Mairead Rodden on - 0161 838 7770 or email firstname(dot)surname(at)skvcommunications(dot)co(dot)uk
###