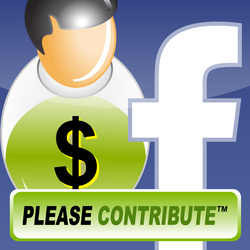 "Traditionally voters would place yardsigns to show their support for a candidate. Now with a few clicks they can let their network of friends know about who they support and get more individuals involved, said CEO Ravi Singh"
Washington, DC (PRWEB) February 12, 2010
ElectionMall.com CEO and founder, Ravi Singh, announced today that political fundraising online is changing again with the introduction of a "Fundraising Campaign Badge" that has been integrated into their DonationPages.com patent pending platform built on Microsoft technology. Campaigns across the U.S. have struggled to find ways to leverage online communities to raise funds, increase awareness, and generate votes.
The new FaceBook® "Fundraising Campaign Badge" can be added and posted to users FaceBook profile and news feed following their donations to campaigns and political causes. The badge automatically links directly to the candidate's contribution page with a message, simply stating "(Name of donor) has just recently donate $ to Candidate X."
According to research compiled by Nielsen, a market research firm, they have found that since February 2009, people are spending more time on social networking sites than on email.
"This new "Fundraising Campaign Badge" allows donors the ability to literally show their friends that they made and a donation and within one click their friends can get involved also," stated Singh, who is known in the industry as the Campaign Guru. "Traditionally voters would place yardsigns to show their support for a candidate. Now with a few clicks they can let their network of friends know about who they support and get more individuals involved."
ElectionMall first changed the process of online fundraising for political campaigns with the launch of their Fundraising SaaS platform in 2007, that allowed every candidate running for political office the ability to generate a secure contribution that was automatically compliant with federal and state finance laws. Traditionally campaigns struggled to set-up their own contribution pages as they had to work with multiple entities including a local bank, purchasing an SSL, ensuring compliance, and creating a web-based database to download the data.
As a result of the multiple tools necessary to run a successful online campaign, ElectionMall will be launching a Cloud software this spring for political campaigns. The Campaign Cloud will integrate both third party applications and data from Facebook®, Google®, Bing® and other social networks, plus their own proprietary software to provide a central Desktop for campaigns to implement and monitor their online campaigns.
"With campaign behaviors changing and technology evolving so quickly. It is nearly impossible for the candidates to take advantage of all the major advances. We have seen Google® and Bing® search engines become crucial as we see more online advertising by candidates and thus there is a large need for integration of these technologies," said CEO Ravi Singh.
Over the past 12 months, ElectionMall.com has seen its technology utilized in international campaigns in Mexico, Malaysia, Germany, England, and most recently in the Ukrainian Presidential Elections that concluded this past Sunday.
"Since our technology is built on a SaaS platform we have been able to easily launch software that is applicable to new local markets," said Singh. "The opportunity to introduce new technologies such as online advertising and online fundraising is something that is increasing participation and awareness and offers campaigns around the world a new opportunity to engage voters."
About ElectionMall, Inc.
Established in 1999, ElectionMall.com. is a non-partisan world leader in providing on demand (SaaS) Internet-based solutions for campaigns and elections worldwide, effectively utilizing technology and business know how to enable candidates, advocacy groups, and nonprofits to generate enhanced gains in awareness, funds, & votes. ElectionMall is headquartered in Washington, D.C, Chicago and LA. with international offices in Brussels, Belgium & Mexico City, Mexico. For more information, visit electionmall.com or call 1-888-932-2946.
###