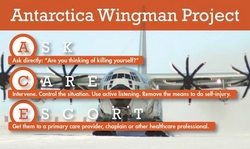 Joint Base Pearl Harbor Hickam, HI (PRWEB) February 12, 2010
A new initiative designed to keep Airmen and their families alive and well is currently being implemented as part of Operation Deep Freeze here.
The Wingman Project began as an Air National Guard program but is now being expanded to serve other parts of the Total and Joint Force. Its goal is to eliminate suicides among Airmen and family members through human outreach, media and training.
Implementing the program as part of Operation Deep Freeze, the Department of Defense's logistical support to the National Science Foundation and the U.S. Antarctic program in Antarctica, was the idea of Lt. Col. Ed Vaughan.
Before moving to 13th Air Force here to serve as the chief of joint operations and plans for Joint Task Force Support Forces Antarctica, Colonel Vaughan was the deputy director of safety for the Air National Guard. In that role, he helped create, and served as first national director of the Wingman Project.
"Whether your area of responsibility is in the desert or the polar ice, warfighters and their loved ones must always try to be good wingmen to one another," Colonel Vaughan said. "This program is designed to help them do that by turbo-charging existing suicide prevention programs to provide servicemembers and their families with easy-to-learn techniques that save lives."
Suicide rates in the Air Force, and across the military, are at an all time high, and according to the Air Force Medical Operations Agency, suicides outnumber combat losses by seven-to-one in the service. These numbers indicate that servicemembers can be more harmful to themselves than any enemy roadside bomb or gunfire.
It was figures like these that propelled Air Force officials to continue their search for better ways to prevent suicides, Colonel Vaughan said. The search led Air Force and Air National Guard officials to implement the Wingman Project in 2007.
The project trains Airmen and their families on how to identify a person in crisis, and how to intervene to save a life. The training method is called ACE--which stands for Ask, Care and Escort--and was validated by psychologists. Secretary of the Air Force, the Honorable Michael B. Donley, and Chief of Staff of the Air Force, Gen. Norton A. Schwartz, also encouraged all Airmen to use ACE in a "Letter to Airmen" on April 24.
The training consists of familiarization-level exposure through computer-based training, followed by optional classroom training of three hours for individuals who want to become a certified "ACE." Those wishing to take their knowledge even farther and become instructors are offered the 14-hour Applied Suicide Intervention Skills Training course, also known as ASIST.
For the implementation of the Wingman Project in the Antarctic Joint Operating Area, Col. Paul Sheppard, the Deputy Commander, Joint Task Force Support Forces Antarctica, directed commanders and first sergeants to distribute suicide awareness posters and wallet cards to all members of the task force.
Colonel Sheppard also directed the establishment of an Operation Deep Freeze Wingman Project website
that provides servicemembers and families with a more in depth look at the Wingman Project.
Colonel Vaughan, said the outreach campaign is effective and members are taking the information back to their families and home stations during redeployment.
The Wingman Project was identified as an Air Force-wide "best practice" during an Air Force Safety Center staff assistance visit in July 2009. Headquarters Air Force also recommended the inclusion of the program into future military deployments.
To learn more about the Antarctica Wingman Project, Airmen and their family members are encouraged to visit the national website at http://www.ODF.WingmanProject.org.
###