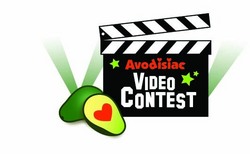 New York, NY (Vocus) February 13, 2010
It is no longer a secret that rich, creamy luscious avocados have more lovers than one can count, even more than Warren Beatty. Passionate avocado fans or "Avodisiacs" recently showcased their affection for this Mexican 'love fruit' in the Avodisiac Video Contest. Fifteen finalists were selected by a panel of judges and then the public voted for winners in three categories; Best Recipe (Avocado Eggroll Dramatizations), Most Original (Love Avocado) and Most Entertaining (I'm an Avocado Song). Category winners won $2000, while the twelve other finalists each received $500.
The judging panel had a tough time narrowing the diverse range of entries. Some were laugh out loud wacky, while others featuring adorably cute children were touching. Many videos featured original songs, stop motion, animation and pop culture spoofs. Laden with innuendo and topped with avocado, recipe videos like Pudding In = Pudding Out and Aphrodite on the Half Shell showcased the versatility of avocado, while avodisiac "aharmony" and Avodisiac Music Video showcased the creativity of its fans.
Avocados have long been believed to have powerful aphrodisiac qualities. Ancient civilizations in Mexico, where avocados originated, worshipped the pebbly-skinned fruit and believed it to promote fertility. Their Spanish name 'aguacate' is derived from a Nahuatl word "ahuacatl" meaning testicle. Avodisiac is a playful take on this folklore and the contest was sponsored by Avocados from Mexico with the intent to provide avocado fans a fun opportunity to express their affection for Mexico's 'love fruit'.
Though Mexico supplies the U.S. with over half of its fresh Hass avocados all year long, they are coming into their peak season now… just in time for St. Valentine's Day, when lovers all over express their feelings for each other through food. To view all the winning videos and find tempting recipes to inspire your love connections, visit http://www.avocadosfrommexico.com.
Best Recipe: Avocado Eggroll Dramatizations
Joseph Robba, Charlotte, NC
Most Original: Love Avocado
Griffin Hammond, Bloomington, IL
Most Entertaining: I'm an Avocado Song (Green and Sexy)
Josh Anderson, Greensboro, NC
###