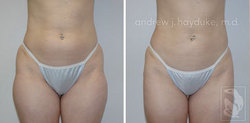 Cryolipolysis is a breakthrough in the science of fat reduction.
Beverly Hills, CA (PRWEB) February 16, 2010
The team at Epione Medical Corporation in Beverly Hills, headed by Dr. Simon Ourian, has been investigating the latest non-invasive procedures for fat reduction . The latest technology LipoFreeze is a procedure that uses a gentle yet effective method of selective cooling. Those who have tried diet and exercise to rid themselves of unattractive fat pads and bulges that persist in spite of their best efforts will find LipoFreeze a wonderful alternative.
So how is this technique different from any other slimming procedure? LipoFreeze uses an innovative technology to target specific areas of fat cells without causing damage to the skin or surrounding areas. What makes the LipoFreeze Procedure different is that it uses an advanced tissue cooling technology to selectively target and eliminate fat cells without harming the skin. In just a few months, the LipoFreeze Procedure is reported to gradually reduce unwanted abdominal fat, love handles (flanks), and back fat without invasive surgery or scarring. Patients can have the procedure done in one day, without any interruption to their regular schedule. According to various studies, LipoFreeze Procedure can reduce the thickness of the fat layer by up to 22.4% within two to four months after a single procedure.
Cryolipolysis is the science behind the fat freezing procedure. It was developed at Massachusetts General Hospital in Boston, MA, USA by world-renowned dermatologists. Massachusetts General Hospital is an affiliate of Harvard Medical School. The research done by these dermatologists showed that fat cells are naturally more vulnerable to the effects of cold, and that fat cells can be safely eliminated without harming the skin or the sorrounding tissues. Out of this discovery the non-invasive LipoFreeze Procedure was born.
Cryolipolysis is a breakthrough in the science of fat reduction, according to Dr. Ourian. He explained that, compared to existing devices which utilize other mechanical techniques such as heat or sound waves, using advanced cooling to eliminate fat cells is advantageous. The cooling technology of LipoFreeze forces fat cells to begin a natural fat cell process of removal. As a result, the fat layer becomes thinner over time.
"The LipoFreeze procedure is different because it uses a cooling technology to safely target and eliminate fat cells without harming the skin. In just a few months following the LipoFreeze Procedure, it's reported that there is a gradual reduction in the thickness of the fat layer resulting in cosmetic improvement of fat bulges," said Dr. Ourian. "This is undoubtedly good news for anyone who is seeking spot reduction for specific areas of fat but is not considering a surgically invasive procedure.
It is important to understand that the LipoFreeze procedure is not intended for weight reduction. Dr. Ourian also noted that it is not intended to replace other invasive procedures, like traditional liposuction, liposculpture or lipo. for those who want a more drastic result in fat reduction.
The literature notes that no pain medication is required for the LipoFreeze procedure, and it is considered comfortable for most patients. Patients can keep themselves occupied with other activities while undergoing the procedure, such as reading, working on a laptop, listening to music, or just relaxing. Reportedly, there is next to no recovery time for LipoFreeze; patients can be up and around without any interruptions right after it is done.
Dr. Ourian's Epione Medical Corporation, located in Beverly Hills Golden Triangle, is among the most comprehensive and state-of-the-art laser and aesthetic surgery centers. Dr. Ourian has been a pioneer for laser technology and non-invasive aesthetic procedures including Restylane®, BOTOX®, Juvéderm®, Radiesse® and Hydrelle®. These treatments are used for correction or reversal of a variety of conditions such as acne, acne scars, acne scar removal, skin discoloration, lip enhancement, wrinkles, stretch marks, varicose veins, cellulite, and tens of others. Laser hair removal and laser tattoo removal are offered too. Epione also carries Dr. Ourian's Signature Series skin care products. For further information please contact 888-951-3377 or visit: http://www.epione.com.
# # #