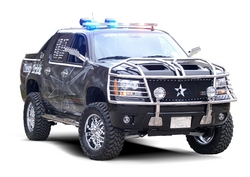 "We've built some very cool vehicle projects in the past, but nothing previously has been as popular as this one!"
Gurnee, IL (PRWEB) February 12, 2010
The association between cool cars and rock music dates back to the 50s. A perfect example of this ongoing love affair is the Dream Police Tactical Vehicle. A 2008 Chevy Avalanche, which was creatively transformed into the ultimate custom ride with a musical theme. The project, built with legendary rock group Cheap Trick, was created as a tribute to Rock music in America, and the 30th anniversary of the band's "Dream Police" album. The modified vehicle creation will be listed for sale on eBay Motors tonight, during this year's Chicago Auto Show, where it is on display as one of the most unique attractions. The new owner will be announced at the conclusion of the show.
When the Marketing Team from Chicago area accessory manufacturer RealWheels Corporation created the vehicle last year, they had no idea just how popular it would become. "We've built some very cool vehicle projects in the past, but nothing previously has been as popular as this one!" explains Vice President, Jhan R. Dolphin. "We've been invited to bring the Cheap Trick vehicle to more car shows, music festivals, concerts, and parties than any of our past custom vehicle creations, and at every event we're mobbed by fans."
The award-winning project team at RealWheels is known for their wild theme-vehicle projects like the custom cars used on Illusionist Criss Angel's A&E TV series. So, why is this one so popular? "The band's popularity has a lot to do with it," says Dolphin. "These guys are still rocking after more than thirty years, and continue to attract new fans because of their new music, busy tour schedule, and involvement with movie soundtracks and television appearances."
In addition to their association with a cool rock band, Dolphin says that the hard-core automotive enthusiasts appreciate the performance and fabrication work that was done to the vehicle. "Of course, the fact that you can play the mega-popular Rockband video game on a 32-inch screen, accompanied by a laser-light show, strobes and a fog machine doesn't hurt either."
The vehicle features a 550HP-supercharged motor that runs on eco-friendly E85 and the attention to detail is amazing. Solid billet side mirrors have been machined to look like the necks of guitars, and 6-foot long stainless steel drumsticks are used as a step into the vehicle. A custom grille guard, emergency light bar, and vented hood create a really aggressive front-end appearance. The use of ultra-plush leather, accent lighting and music-themed details create an interior that is 100% luxury.
Dolphin says that he has no idea about who might become the truck's new owner. Musician? Cheap Trick fan? Chevy fan? Rock star? One thing's for sure: the new owner will have an entertaining and one-of-a-kind piece of Rock-Automotive memorabilia.
###