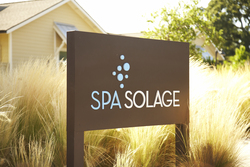 Calistoga, CA (PRWEB) February 14, 2010
The top spa in the United States is Spa Solage, at Solage Calistoga, according to readers of Condé Nast Traveller, a leading British travel publication. The magazine recently released the results of its seventh annual "Readers' Spa Awards 2010," naming Spa Solage, at the Solage Hotels & Resorts flagship, a new brand from Auberge Resorts, #1 in a prestigious list of "Favourite Overseas Hotel Spas: The Americas and Caribbean." This recognition follows on the heels of Spa Solage's #2 ranking among the "Top 25 Hotel Spas: Continental U.S. and Canada," in Travel + Leisure Magazine's "World's Best Spas 2009" awards, featured in the October 2009 issue.
"We are honored to receive this coveted award and thrilled to be recognized by the distinguished readers of Condé Nast Traveller," said Richard Hill, General Manager of Solage Calistoga. "It is truly a privilege to be selected as the leading hotel spa anywhere in The Americas from a field of so many renowned properties."
The award-winning, full-service Spa Solage is located at Solage Calistoga, a contemporary 89-room eco-friendly resort situated on 22 acres in the acclaimed Napa Valley wine country. With 20,000 square feet dedicated to health and wellness, Spa Solage is known for its full array of relaxing and invigorating services, geo-thermal mineral pools and signature three-part Mudslide treatment. The resort also features the Michelin Star-rated Solbar restaurant that offers best-of-season, ingredient-driven menus in a decidedly relaxed indoor/outdoor environment. The resort was designed to reflect the valley's rural heritage in a fresh style described as "Napa barn meets San Francisco loft." The resort's spacious rooms and suites – known as "studios" – feature open floor plans, warm color palates, stone showers with pebble flooring and contemporary furnishings. Perfect for couples, families, or groups, Solage Calistoga is a stylish yet welcoming destination. More details about Spa Solage and the resort are available at http://www.solagecalistoga.com.
The Conde Nast Traveller Readers' Spa Awards are based on readers' votes on criteria including spa facilities and services, individual approach, ambience/decor, body and facial treatments, amenities and products, exercise programs, cuisine, quality of service and staff and, for the first time, environmental friendliness.
About Solage Hotels & Resorts
Solage Hotels & Resorts is an innovative brand from Auberge Resorts, the award-winning creators of Auberge du Soleil, Esperanza, Calistoga Ranch and The Inn at Palmetto Bluff. Solage offers contemporary, design-focused properties that are stylish yet welcoming, creative dining and bar destinations and inviting social spaces with a fresh attitude. Taking an energetic approach to wellness, Solage puts a creative spin on traditional spa concepts and offers extensive fitness programs. Solage proves that luxury can be compatible with sustainability by incorporating environmentally sensitive design and green practices at every property. The brand debuted in 2007 with the opening of its first resort, Solage Calistoga, in Napa Valley. For more information about Solage Hotels & Resorts, please visit http://www.solagehotels.com.
Media Contact:
Leah Goldstein
Murphy O'Brien, Inc.
(310) 586-7124
# # #