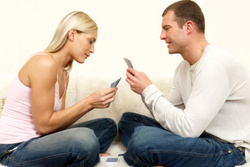 Putting a new twist on a favorite pastime, playing card games, Card Party Singles differs greatly from other dating services in that it is dedicated to connecting fans of traditional card games…
Atlanta, GA (PRWEB) February 15, 2010
Putting a new twist on a favorite pastime, playing card games, CardPartySingles.com differs greatly from other dating services in that it is dedicated to connecting fans of traditional card games for social networking and long-lasting relationships. Card Party Singles creates a fun community, online and offline, for single ladies and single men to meet and bond over their love of popular card games. Members can identify that they are a fan of a particular card game and search for friendship, dating, or marriage, based on their common interest in that game.
At nationwide card party dating events, which are to be announced, Card Party Singles will offer singles the opportunity to meet each other in the offline world in a public place, where they can have fun playing cards, such as Spades, Hearts, Bulls##!/I-Doubt-It, Gin Rummy, GoFish, Pinochle, Bid Whist, Rook, Canasta, Cribbage, I-Declare-War, etc. While playing cards in teams of four or more, the conversations should come more naturally and easily. And, doing this activity together may help in judging their potential mate's character, especially if someone's a sore loser or cheater.
Overview from CardPartySingles.com
"CardPartySingles.com is an online dating site and social networking site with the added benefit of offline, face-to-face singles parties for single men and single women who are serious about finding love and marriage. Playing traditional card games in a relaxed group setting relieves the pressure of one-on-one dates or the stress of speed dating and increases the chances of meeting someone interesting and compatible." Also, the dating service does not promote gambling.
What a CardPartySingles.com Membership Includes
With a very quick sign up (most questions can be deferred for later), Card Party Singles offers many of its features at no cost to the user whatsoever, including creating a dating profile, uploading photos, uploading videos, browsing the member database, and sending flirt messages.
All Card Party Singles members can search by a myriad of options, such as religion, non-smoker, education, living situation, exercise habits, politics, geography, and of course, their favorite card game. Euchre card players can find other Euchre friends. Spades lovers can meet other Spades aficionados. People that play Hearts can meet and fall in love.
Premium members (paid users) can send and receive emails and IMs (instant messages), video chat on their webcam, add people to their personal favorites list, see who has made them a "favorite," and block any users from contacting them. The budget-friendly service is less than fifty bucks for one year's online access.
With a functional interface, fast video transfer speed, and decent search features, the only thing that Card Party Singles lacks is a large number of users. Officially launched in January 2010, the number of users is low, when compared to older and larger dating personals sites, and this is likely to change as the site grows in popularity. Overall, Card Party Singles is on par with the higher-end niche dating sites today.
To learn more about Card Party Singles, visit http://www.cardpartysingles.com.
###