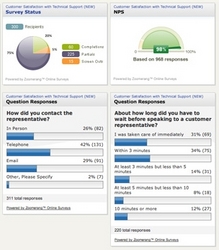 "As someone who works with numerous organizations that rely on Salesforce.com, Zoomerang is one application that is a must-have for any customer support or marketing professional," affirms Lionz.
San Francisco, CA (PRWEB) February 18, 2010
MarketTools, Inc., the leading provider of Customer Insight Management solutions, today announced that it has responded to the needs of business professionals by integrating its intuitive survey application, Zoomerang, with Salesforce.com. The solution, Zoomerang Surveys for Salesforce, enables users to survey their customers using Zoomerang and then automatically map the responses directly back into Salesforce.
Business professionals can now experience the power of Zoomerang surveys integrated with Salesforce by signing up for a free 30-day trial at AppExchange or by visiting the Zoomerang website.
"Zoomerang for Salesforce is a very powerful way to create surveys from within Salesforce and bring the survey results directly back into Salesforce," raves Jeff Lionz, Sr. Salesforce.com/CRM Management Consultant at LionzForce Consulting. "With Zoomerang appearing as a tab within Salesforce, the integration is seamless and the data automatically updates relevant fields within Salesforce. Users no longer have to send summaries of survey results via email, or save them as an Excel attachment within Salesforce, or enter data manually into Salesforce. I have already found several ways my clients can use this application to get customer feedback on recently held marketing events or training programs, gain insights on product usage and issues through ad-hoc surveys, and get customer input to improve sales force effectiveness. It is a very powerful solution for those mid-sized organizations that use Salesforce as their CRM system."
To help customers see the solution firsthand, Zoomerang will be conducting a webinar entitled, "Benefits of Sending Zoomerang Surveys with Salesforce.com," on Thursday, Feb 18, 2010 at 10 AM Pacific. To sign up for the webinar, please visit the Zoomerang website.
About MarketTools, Inc.
MarketTools is the leading provider of Customer Insight Management solutions for the world's market leaders. Through a unique combination of best-in-class insight and feedback platforms, quality-assured global panels and research innovation, MarketTools enables companies to innovate and identify new opportunities, optimize product success and build customer loyalty. As the first company to make online surveys widely available on the Web, MarketTools continues its market-leading position by providing the broadest range of powerful, accurate and integrated customer insight technologies that empower companies to become the most customer-centric organizations in their industries. MarketTools' premier portfolio of technology-based insight brands includes MarketTools.com,™ Zoomerang,™ CustomerSat,™ TrueSample,® ZoomPanel,™ and ZoomPanel™ Tech.
MarketTools is a privately held company with corporate headquarters in San Francisco and European headquarters in London. For more information, please visit: http://www.markettools.com.
# # #